Rigorous research in graduate school was the key to this Temple alum realizing her deep-space dreams.
For as long as she can remember, Shannon Hibbard, CST '17, has been fascinated by the cosmos. As an undergraduate at Ohio State University, she worked in the field in cold places such as Antarctica, the Austrian Alps, Norway and the Southern Alps of New Zealand, and became interested in the relationship between ice on Earth and ice on Mars. When she researched graduate schools, she looked for experts in this area, and came across the work of Temple's Associate Professor of Earth and Environmental Science Alexandra Davatzes. 
"Her work was not ice-related, but I reached out to her because she had worked on HiRISE, a high-resolution camera on one of Mars' satellites," Hibbard said. "We met on Skype, and we really hit it off."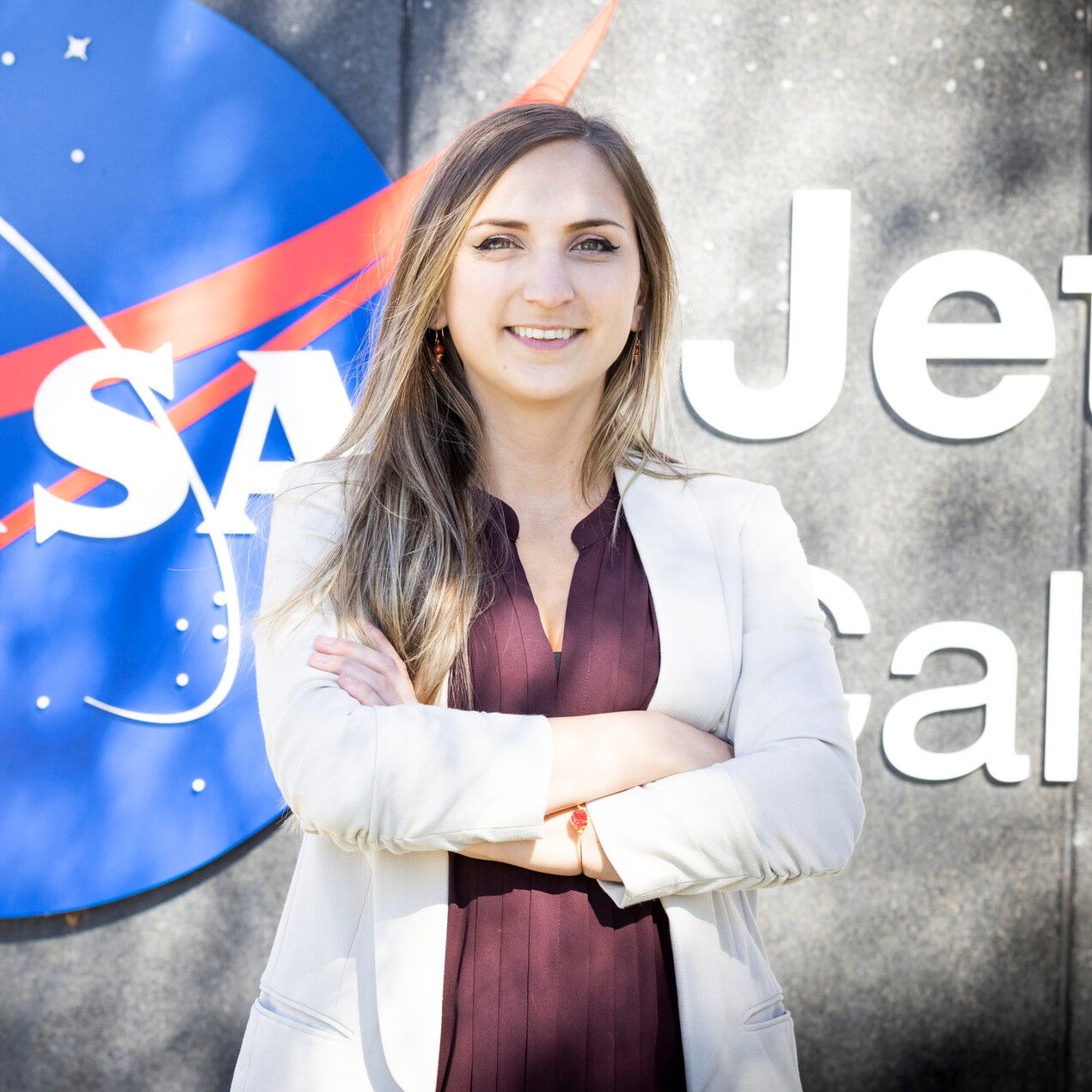 Shannon Hibbard '17
Postdoctoral Program Fellow, NASA
"A support system is so key in academia, having people rooting for you will lift you up and propel you forward."
Putting in the Work
Davatzes convinced Hibbard to enroll in the master's program in geological sciences.
At Temple, Hibbard primarily examined the geochemistry of Precambrian rocks that reveal important clues about impact cratering processes, a fundamental theme in planetary geology. 
"We studied Precambrian rocks that were 3.24 billion years old, which at that point Earth was at a very early age of just over 1 billion years old," Hibbard explained. "The conditions back then were very different than today so it felt like I was studying a whole other planet."
All the while, she independently studied ice on Earth and Mars at every opportunity, using any class projects she could to further her knowledge.
She looks back at her time as a graduate student at Temple, where she conducted her own research and worked as a teaching assistant, as an extremely rigorous but productive period.
"Temple prepared me to be a scientist," said Hibbard. "Because it's a smaller program, you really get to know all of the professors and students and see what everyone is doing up close."
Monumental Mentor
The summer after her first year, Hibbard traveled to South Africa with Davatzes to conduct field work on the Precambrian rocks found in the Barberton Greenstone Belt and collect samples from the remnants of a 3.24 billion year-old meteorite impact event. 
Hibbard finished her program in two years, but subsequently was offered a prestigious internship at the Jet Propulsion Laboratory (JPL) at NASA. In order to take advantage of the opportunity she had to be considered a current student: Davatzes paid her tuition to ensure Hibbard could stay on at Temple for an additional semester and participate in the NASA program. That generous support ended up dictating the trajectory of Hibbard's future.
"A support system is so key in academia," said Hibbard. "Having people rooting for you will lift you up and propel you forward. Alix Davatzes certainly did that for me." 
At JPL, Hibbard worked with Matthew Golombek, known for his work on Mars landing sites. "It just so happens that he put me on an ice-related project, characterizing potential sites for the Red Dragon mission that SpaceX was going to have," she explained.
Out-of-this-world Opportunity
The SpaceX mission never came to fruition, but it laid the foundation for Hibbard's PhD work in planetary geology at University of Western Ontario using the Canadian High Arctic as an analogue for Mars. In 2021, she successfully defended her dissertation and moved to Pasadena, California, to return to JPL as a NASA Postdoctoral Program Fellow working again with Golombek. 
She continues to build on her doctoral research, studying buried ice and frozen ground landforms that are prevalent on both Earth and Mars, looking for statistically significant relationships between the surface and subsurface that can give scientists insight as to where and how shallow the ice on Mars might be.
Her biggest career highlight to date came when this past year she was selected to be a part of a measurement definition team for a new preliminary international Mars satellite mission, the International Mars Ice Mapper, a joint collaboration between NASA, the Canadian Space Agency, the Japan Aerospace Exploration Agency and the Italian Space Agency.
"The fact that I was selected is very exciting, and I feel very proud and honored to be a part of the team. Back before I went to Temple, I knew I wanted to work on ice and frozen ground processes on Earth and Mars and to one day work at JPL," she said. "Seeing it become a reality and being able to use this knowledge to help find human landing sites on Mars is truly out of this world."
View Main Page
Bold Actions, Big Futures
Read more stories about Owls making a difference in the world.
Philadelphia's Only Public Research Institution
As a large, public research university, exploration and discovery of new information is embedded into all disciplines. Temple students can experience research in many ways through coursework, mentorships with professors and independent projects.
Temple's 30 Under 30
Our annual awards program recognizes trailblazing young alumni under the age of 30 who are disrupting the status quo to make a better tomorrow for all of us. We spotlight outstanding Owls who are trendsetters, problem-solvers and innovators, including Shannon Hibbard.