Research opportunities helped this engineering graduate become a trailblazer in her industry—and she hopes more women will follow her path.
After launching into her career in electrical engineering, Andrea Poosikian, ENG '19, noticed a distinct lack of female representation in her craft. As Poosikian continues to do world-changing sustainable work for BP, she hopes to be a source of light for future women in the engineering space.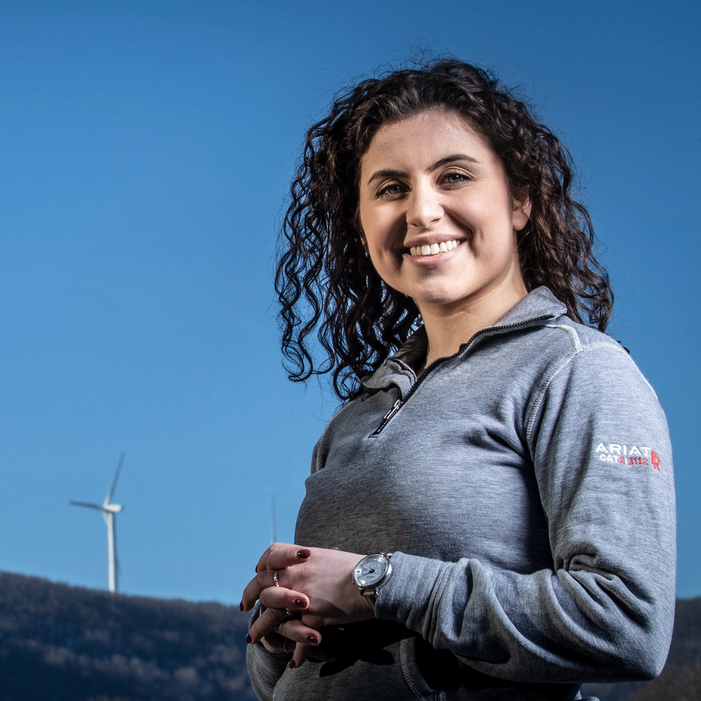 Andrea Poosikian, '19
Electrical Engineer, Onshore Wind US, BP
"There have been very few women around me in this field, and it's made me much more energized about equity in the workplace. It's something that needs to change, and I want to be part of that change."
Spark of an Idea
Poosikian can remember the moment during her junior year as an Honors engineering student when everything changed.
"I was taking power system-specific courses in electrical engineering. It might have been the subject or just that I had very good professors, but suddenly the information just clicked in my head." She had found the way to connect her technical and personal passions. 
In response, she began pursuing student research opportunities. An internship at General Motors working in its hybrid propulsion systems research lab confirmed that she could continue doing the work she was passionate about—and do it in a way that promoted sustainability.   
"I wasn't going to spend eight hours a day for the rest of my life doing work that didn't support our society's transition away from fossil fuels," said Poosikian. But it wasn't just that she found her calling at Temple. Her engineering classes gave her a unique skill set that helped her stand out in the job market. In addition, her time serving as the president of the Temple chapter of the Institute of Electrical and Electronics Engineers allowed her the opportunity to develop her leadership and management skills.  
Climbing the Mountain
Post-graduation, Poosikian served as a performance engineer at BP in their central engineering function within wind, which supports all wind farms in Houston. Her role as assistant performance manager at a wind farm in Pennsylvania, however, was a life-changing experience. She was the only woman on-site and had to commute an hour up and down the side of a mountain every day.
"Those experiences deepened my technical knowledge and my ability to lead different types of people," she said. "It was a challenge and I made mistakes, but getting out there; climbing the wind turbines; and doing low, medium and high voltage electrical work took a lot of courage and persistence. I was a different person coming out of it."  
Currently back in Houston, Poosikian works on the reliability engineering team for BP's onshore wind business. This role entails proactive repair, corrective repair and monitoring of the operations of a fleet of more than 1,000 turbines. She is also currently getting her master's degree from the University of Wisconsin–Madison. 
Positive Energy
Poosikian is also the BP Onshore Wind's STEM ambassador with a specific focus on inspiring women and minorities to choose and stay in the engineering profession. She is developing and rolling out training, and doing additional outreach to increase inclusivity and respect in the industry. 
"There have been very few women around me in this field and it's made me much more energized about equity in the workplace," she said. "It's something that needs to change, and I want to be part of that change." 
View Main Page
Bold Actions, Big Futures
Read more stories about Owls making a difference in the world.
Philadelphia's Only Public Research Institution
As a large, public research university, exploration and discovery of new information is embedded into all disciplines. Temple students can experience research in many ways through coursework, mentorships with professors and independent projects. 
Temple's 30 Under 30
Our annual awards program recognizes trailblazing young alumni under the age of 30 who are disrupting the status quo to make a better tomorrow for all of us. We spotlight outstanding Owls who are trendsetters, problem-solvers and innovators, including Andrea Poosikian.