For this Temple alumnus, every day requires the intensity of a full-court press—exactly the kind of fast-paced, no-break environment in which he thrives.
Now, Douglas Ammon, KLN  '15, oversees the real-time social media strategy for the NBA. But it wasn't all that long ago that he was an Owl-in-the-making, pursuing a master's and a professional passion still in its earliest stages.
"Without going to Temple and getting my master of journalism, I would have a totally different career path," Ammon said. 
"I wouldn't be where I am without it."
A Temple Tip-off
Ammon's path began at Klein College of Media and Communication, cutting his teeth in introductory courses and discovering his voice as a sports writer. 
Ammon was attracted to Temple initially because of the prospect of hands-on experience in Philadelphia, the nation's fourth-largest media market. He took full advantage, earning internships with the Philadelphia Union and 76ers.
He also had other Owls in his family—his father, mother and uncle received degrees from Beasley School of Law, the College of Public Health and the Lewis Katz School of Medicine, respectively.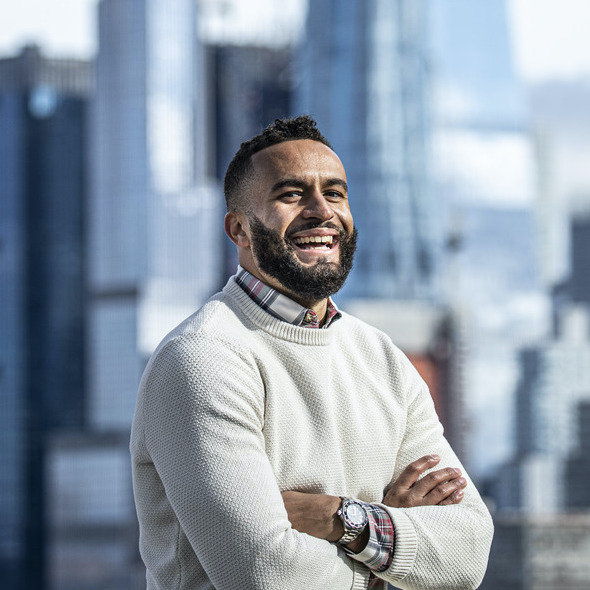 Doug Ammon '15
Klein College of Media and Communication
"Temple set me up with my first-ever sports journalism internship, doing digital media for the Philadelphia Union, which was a fantastic experience. Taking what I learned at Temple and putting it into practice on a real-world level—that solidified for me that this is what I wanted to do."
A Passion for Persevering
There are 9-to-5 workdays. And then there are Doug Ammon workdays.
As the manager of digital and social content publishing for the NBA, Ammon clocks in at around 5 or 6 p.m., just as most people are leaving the office. He doesn't clock out until NBA games on the West Coast have wrapped up, usually around 2 or 3 a.m. In between, Ammon says, it's "organized chaos." 
He wouldn't have it any other way.
"When you get into the sports media business," Ammon said, "you go into it with the understanding that you're not going to live a normal life."
Committed to Conquering Content
Ammon and his team, operating out of the Content Command Center in Secaucus, New Jersey, watch each game's broadcast unfold, identifying any potential highlights, from massive dunks to in-arena fan moments. From there, copy is crafted and funneled to Ammon, who makes an instant decision on how it should be deployed to the NBA's 100 million followers. 
Instagram, Twitter, Facebook, Snapchat, YouTube and, more recently, even TikTok—Ammon makes use of them all.
"I'm the last real line of defense before anything gets published," he said. "You will know quickly when a mistake is made. Fans on social media are ruthless. But there's also the instant gratification of doing something that's well-received on social—producing a piece of content, seeing it go up and immediately seeing 100,000–200,000 likes and 5 million views."
With the NBA draft, NBA training camps, the WNBA and more, there really is no offseason for Ammon and his team.
"I don't think I would have gotten nearly the same amount of daily and nightly joy out of what I do without the initial push from Temple and the confirmation that you can do this and you can do well."
Temple's 30 Under 30
The 30 Under 30 awards program recognizes trailblazing young alumni who are disrupting the status quo to make a better tomorrow for all of us. We spotlight outstanding Owls who are trendsetters, problem-solvers and innovators, including Doug Ammon.
Meet the Awardees
Temple Changemakers
Get to know more of Temple's 30 Under 30 award recipients. Each year, Temple honors the achievements of 30 alumni under the age of 30 who are changing the world through the force of their will and the clarity of their vision.
Preparing the Next Generation of Professionals
A Temple education is career-focused. From working with real-world clients in the classroom, to learning from leading industry experts and taking on internships and other opportunities across Philadelphia, all students have the chance to gain important professional experience and develop the tools necessary to pursue their passion-turned-career.
Learn About Our Impact
Read more stories about Owls making a difference in the world.