One way to level up remote learning? Bring in a telepresence robot.
Emmy-nominated reporter Amy Caples, KLN '85, always knew she was going to come back to Temple.
"Sitting in Annenberg Hall in 1984, I knew I would eventually teach. I had these amazing professors who had worked in the field who then came back," she said. "It was those people who made it real, who had accomplished what I wanted to accomplish."
And after a storied 20-year career in broadcast journalism, serving as a co-anchor of the CBS3 morning show for six of those years, Caples successfully chased the future she wanted, just like her professors. It was time to pay it forward. 
Caples has been teaching and mentoring rising journalism and media production students at the Klein College of Media and Communication since 2005, quickly becoming a student favorite.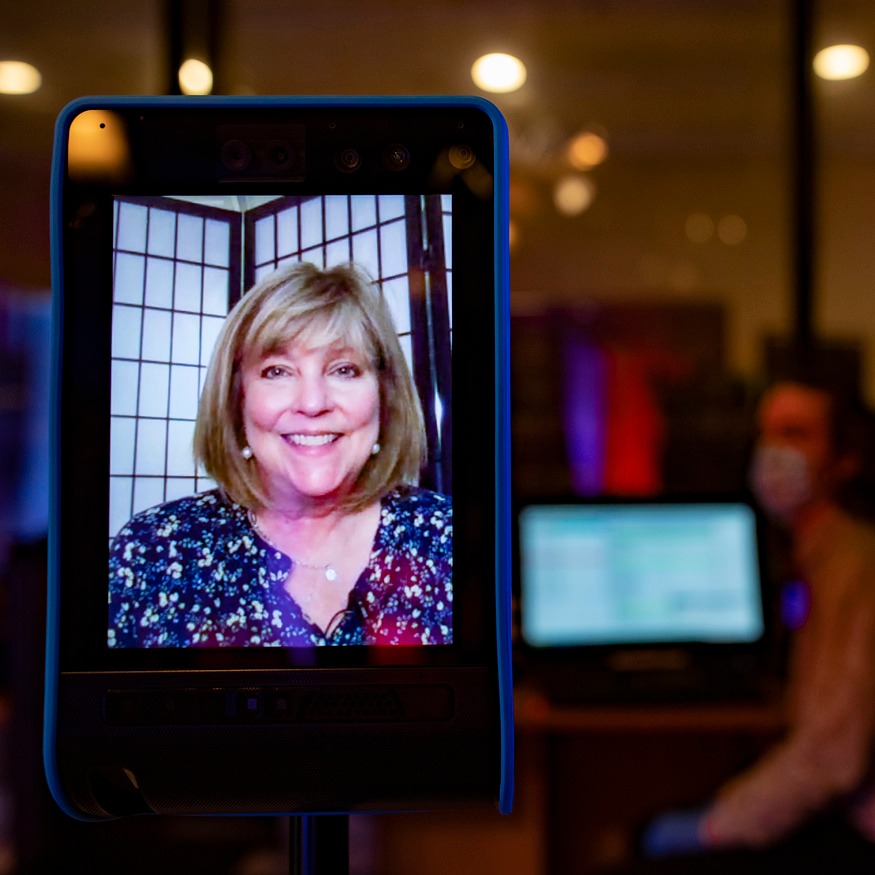 Amy Caples '85
Alumna and Professor, Klein College of Media and Communication
"I've been doing this [teaching] for 15 years and I always like to say a lot of it is a well-oiled machine. What this has taught me is that the machine can be taken apart and put back together a lot of different ways."
Time to get creative
When COVID-19 struck, Caples was met with a challenge: How did she ensure her students got the hands-on, in-studio experience they needed? 
Her solution: A telepresence robot. 
"Yeah, I could have been on a Zoom call, but this allows me to wheel up to my students in the studio and talk to them. That's what was so important—I'm giving the direction. I didn't want anybody who doesn't know what I know to be directing my students in this type of work ... I'm still able to do what I would normally do if I was standing in the control room." 
Caples operates the robot from home while students enter the studio one at a time following very strict safety protocols. 
"None of my students felt like they got shorted on this course because this is how all media is working right now. You've got sports anchors doing play-by-play from their living rooms, people directing from home. This isn't second best, this is what's actually happening on TV every day in this country," said Caples.
Perseverance, always
This experience, Caples explains, has been eye-opening for her students to see their resiliency, adaptability and how to value things differently.
"It's going to be a huge advantage for them," she said. 
Caples proved that this can be done successfully, and thinks this kind of technology deserves a long-term place in education. 
"I think it's going to open up the doors to have people teach from all over the world," she said. "When you think of it, particularly in terms of production, you could have the director of NBC Nightly News just be able to teleport and go around and see what we're doing and offer suggestions in real time. That's the magic of it."
Learn More
Faculty Insight
Temple's faculty are leaders in their fields, mentors, innovators and thought leaders. Read about their impact in the classroom and around the world.
Industry-driven Professors, Mentors and Educators
Our faculty create an open, empowering learning environment for all students to ask questions, challenge the status quo and to think differently than they thought before. They encourage students to develop a wide range of skills to prepare for successful careers, from cultural competencies to technical abilities and more.
View Main Page
Learn About Our Impact
Read more stories about the work we do and see how far we can go.