Academic Programs / Liberal Arts


Anthropology
Charles Weitz, Chair
weitz@temple.edu
Gladfelter Hall, Room 210
(215) 204 – 7775
http://www.temple.edu/anthro
Leonard Greenfield, Undergraduate Chair and Faculty Advisor
green@temple.edu
215-204-1489
Note: Department chairs frequently change at the beginning of the academic year. Students should contact departments for updated information.
General Anthropology
Human Biology Track
Visual Anthropology Track
---

Anthropology is the study of human origins, development, and diversity. Anthropologists explore the ways in which people understand and adapt to living in a variety of settings, ranging from urban environments to rural villages, all over the world and across time. Anthropologists are interested in investigating such questions as: What does it mean to be human? What are the historical, social, political, economic, and environmental pressures that have helped shape the experiences of particular groups of people? How do human beings interact with the physical environment? Does the language that one speaks affect the ways in which one thinks and experiences the world? Anthropology includes four broad sub-fields, all of which are well represented at Temple University: Cultural Anthropology, Archaeology, Biological Anthropology, and Linguistic Anthropology.
Undergraduate majors in Anthropology pursue one of three courses of study: General Anthropology, the Human Biology Track, or the Visual Anthropology track. Laboratory facilities, internships, fieldwork, and experiential learning courses provide students with practical experiences in all of Anthropology's sub-fields. A minor can be taken in General Anthropology or in Visual Anthropology.
---
General Anthropology
The general anthropology major is intended to give students a foundation in all of the four sub-fields associated with the discipline of anthropology. Each of the sub-fields requires the development of a number of skills, including formulating hypotheses; developing research programs and proposals; applying theories to the interpretation of data, including artifacts; and gathering ethnographic information through participant-observation. There is sufficient flexibility in the requirements for the general anthropology major so that a student can focus their coursework, if desired, on any one of the four sub-fields.
With its focus on human diversity and its emphasis on cultural relativism, the general anthropology major well prepares students for the issues they are likely to encounter in today's workplaces. At Temple we offer a number of courses on such topics as the Anthropology of Policy, Medical Anthropology, and Urban Anthropology, which prepare students for careers in: public administration, social work, health policy, urban planning, and other aspects of public policy-related work, in addition to professional careers in fields such as business, law and medicine. Anthropology students are also well-prepared to participate in activities which call for cultural sensitivity and an understanding of cultural differences, such as the teaching of English as a foreign language and other work with immigrant communities or work in the global marketplace. A variety of courses on archaeology prepare students for careers in the field of cultural resources management and historic preservation.
Interested students can contact the faculty advisor for additional information. A brochure describing the General Anthropology major can be obtained in the department.
Major Requirements- General Anthropology
---
Minor Requirements – General Anthropology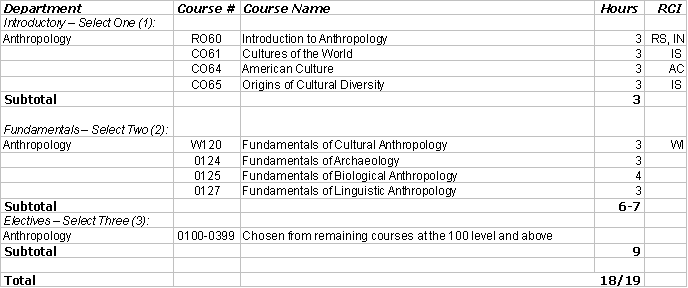 Human Biology Track
The Human Biology Track in Anthropology prepares students for careers in medicine, dentistry, physical therapy, optometry, podiatry, and other allied health fields. Human Biology students major in Anthropology but take departmental courses primarily in biological anthropology. These courses deal in human genetics, human paleontology, human physiology, and human reproductive biology and behavior. They stress an evolutionary perspective on humans and integrate molecular, whole-organism, population, and species level data on humans. The Human Biology Track also includes required courses in biology, cultural anthropology, human anatomy, and physiology. This program also encourages students to take health/biology-related courses in psychology, sociology, history, political science, and the humanities to fulfill admission requirements to professional schools in the health sciences. As a result, our students have the broad, liberal arts background that many health science professional schools find attractive.
Interested students should contact the pre-med advisor at Sullivan Hall or the Human Biology Track adviser, Dr. Leonard Greenfield, at (215) 204-1489 or green@temple.edu . A brochure describing the Human Biology Track can be obtained in the Anthropology Department, room 209, Gladfelter Hall.
Major Requirements: Human Biology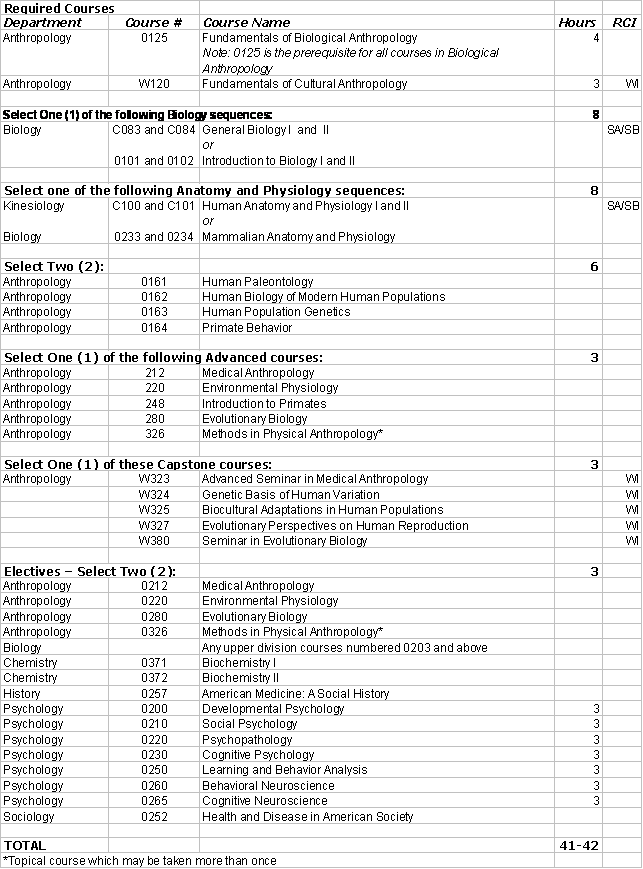 ---
Visual Anthropology Track
This track emphasizes a well-rounded liberal arts background and a comprehensive understanding of the world's varied systems of visual representation. The Visual Anthropology curriculum allows students to combine cultural anthropology with the study and practice of visual communication. Courses in the Visual Anthropology Track combine topics and methods familiar to the social sciences, humanities, and media arts. It is well suited to those students interested in popular culture as well as the fine arts; documentary and ethnographic film as well as feature film; all forms of artistic performance, including the folk arts, fine arts, popular arts, and media arts; televisual communication, including both broadcast and narrowcast forms; as well as home media and alternative media. Additional attention is now dedicated to relationships of globalization and New Media.

In the Visual Anthropology curriculum, literary traditions and criticism find a place alongside pictorial traditions and media criticism. Students may do original research that involves still photography and/or video production. Students apply field methods familiar to cultural anthropology to achieve a better understanding of the processes and products of visual communication. Laboratories are available for both still photography and video production. There are ongoing field programs in North American, Japan, and India. The summer program in India is intended to investigate Indian civilization through an anthropological and historical approach of its religions and artistic traditions, both ancient and contemporary http://isc.temple.edu/jjhala/templeindia/.
Interested students should contact the Visual Anthropology Adviser, Jayasinhji Jhala, at (215) 204-7727 or jjhala@temple.edu. A brochure describing the Visual Anthropology Track can be obtained in the Anthropology Department, room 209, Gladfelter Hall.
Required courses- Visual Anthropology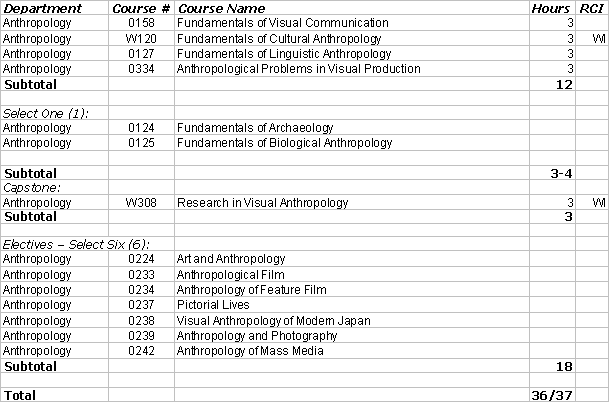 Minor Requirements – Visual Anthropology