Academic Programs / Liberal Arts


Criminal Justice
John Goldkamp, Chair
Patricia H. Jenkins, Assistant Chair
patj@temple.edu
(215) 204-5164
Main Campus
Stephanie Hardy, Advisor
shardy01@temple.edu
(215) 204-7919
Ambler Campus
Stephen Smith, Ambler Program Coordinator
stephen.smith@temple.edu
(215) 283-1532
5th Floor Gladfelter Hall
(215) 204-7818
http://www.temple.edu/cj
Note: Department chairs frequently change at the beginning of the academic year. Students should contact departments for updated information.
The mission of the undergraduate program in Criminal Justice is to foster a comprehensive understanding of the nature of crime, criminals, and criminal law; the goals, organizations, occupations, and rules that make up the criminal justice system; and the methods of learning that are utilized by scholars of crime and criminal justice. The Bachelor of Arts program enables students to learn how different academic disciplines approach the study of crime and criminal justice and to understand the kinds of questions and problems that shape developments in research, practice, and reform.
Requirements for the Major (Minor, Certificate, Concentration)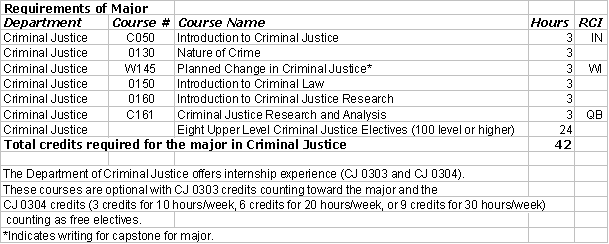 Distinction in Major
Criminal Justice majors may graduate with distinction in the major if they have earned a GPA of 3.5 in the major and a cumulative GPA of at least 3.25.
Requirements of Minor