Academic Programs / Liberal Arts


Political Science
Please direct undergraduate inquiries to:
Geoffrey Herrera, Faculty Advisor
Gladfelter Hall Room 462
215-204-1471
gherrera@temple.edu
Gladfelter Hall Room 408
215-204-1469
Daniel Chomsky, Advisor
Gladfelter Hall Room 422
215-204-7817
Dchomsky@temple.edu
Gary Mucciaroni, Chair
4th floor, Gladfelter Hall
215-204-1469
gmucciar@temple.edu
http://www.temple.edu/polsci/
Note: Department chairs frequently change at the beginning of the academic year. Students should contact departments for updated information.
The Political Science major and minor provide a systematic study of politics in the United States (federal, state, and local) and foreign countries. Students will have an opportunity to compare United States politics and policy to those of other nations and to study the relationship among states within the international system. Special emphasis will be placed on using theoretical tools to study the role institutions and social relations play in shaping political outcomes, as well as the relationship between politics and economics (political economy).
The key educational goal for political science students is analytical thinking. Students will recognize and understand various patterns in the distribution of political power and recurrent models of political behavior. Students will also gain insight into the relationship between the distribution of resources and power within society and political outcomes. As politics inherently involves how societies distribute life opportunities, students will also reflect upon the moral choices involved in political life. The department teaches students how to develop the capacity to conduct empirical research in order to illuminate and revise theoretical models of politics. Students will be expected to use a full range of data and to write clearly.
Political Science graduates pursue a wide range of careers. They may work in government offices (at all levels), political campaigns, private voluntary organizations, unions and community organizations, as well as the private sector. Some pursue teaching careers. A degree in Political Science is also excellent preparation for law school.
The department can arrange internships, which are typically linked to academic study. In addition, our Experiential Learning Program offers internships combined with academic seminars every term.
The department has two important student organizations: the Political Science Majors Association and Political Science Honor Society - Pi Sigma Alpha, Temple Chapter.
Requirements for the Political Science Major and Minor
Summary of Major Requirements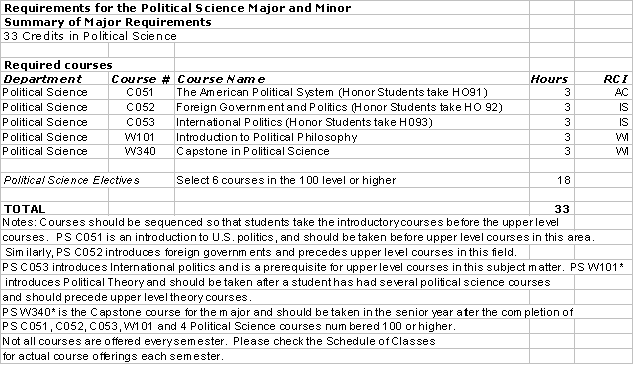 Summary of Minor Requirements
* Indicates writing capstone for major