Academic Programs / Liberal Arts


PHILOSOPHY
Philip A. Alperson, Chair
Anderson 716
(215) 204 – 2464
alperson@temple.edu
Charles Dyke, Undergraduate Advisor
Anderson 741
(215) 204 – 1738
cdyke@temple.edu
724 Anderson Hall
(215) 204 – 1742
http://www.temple.edu/philosophy
Note: Department chairs frequently change at the beginning of the academic year. Students should contact departments for updated information.
---
Philosophy Major
Philosophy Major with a Pre-Law Emphasis
Philosophy Minor
The Philosophy Major
The Philosophy Department offers a 36 credit B.A. degree program. The program is designed to provide a solid foundation for various professions in business, government, and professional schools (such as law), as well as an excellent background for the further study of philosophy. The department makes special provisions for students who have chosen the major as preparation for entry into law school. These students should follow a path slightly different from that of traditional majors, as indicated below. The Philosophy Department always has many majors who are transfer students. Students should be sure to see a departmental advisor to make the necessary adjustments for their progress through the major.
---
Requirements for the Philosophy Major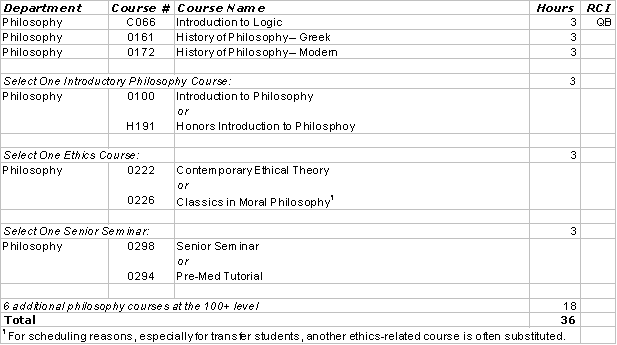 Requirements For The Philosophy Major With a Pre-Law Emphasis

Requirements for the Philosophy Minor