Academic Programs / Liberal Arts


Economics
William J. Stull, Chair
Ritter Annex 877
215-204-5022
william.stull@temple.edu
Contact: William Holmes, Faculty Advisor
Ritter Annex 804
215-204-8175
william.holmes@temple.edu
Note: Department chairs frequently change at the beginning of the academic year. Students should contact departments for updated information.
B.A. Major Requirements
Minor Requirements
Mathematical Economics
Certificate in Political Economy
Management Career Certificate
---
The major in economics exposes a student to the economist's way of thinking about social problems and behavior. The major helps a student understand the economic aspect of current events and public policy and is good preparation for careers in law and business. The student honorary fraternity is Omicron Delta Epsilon. Along with the more general student organization, The Economics Society, it provides opportunities for students to network with other students and with practicing economists in learning more about economics and finding internships and employment opportunities. There is also a Cooperative Education option. Through this program, students may earn income while gaining valuable work experience which can enhance their job market prospects upon graduation. By completing an academic research project under the guidance of a faculty member, Co-op students may earn credit for Economics 0288.
---
B.A. Major Requirements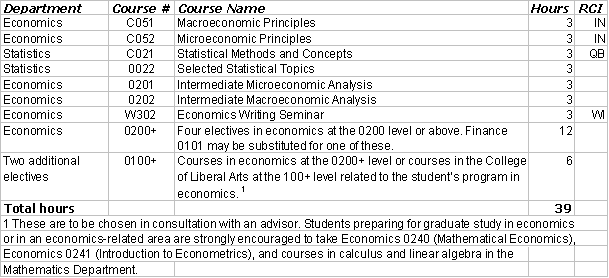 Students preparing for graduate study in economics or in an economics-related area are strongly encouraged to take Economics 0240 (Mathematical Economics), Economics 0241 (Introduction to Econometrics), and courses in calculus and linear algebra in the Mathematics Department.
---
Minor Requirements
(For Liberal Arts and all other colleges allowing a minor in Economics)

---
Mathematical Economics
In cooperation with the Department of Mathematics, the Department of Economics offers a special concentration leading to a B.A. degree in Mathematical Economics. The program and its requirements are described in full in the Intercollegial Programs section of this Bulletin.
---
Certificate in Political Economy
The Certificate of Specialization in Political Economy is a joint program of the Departments of Economics and Political Science . The purpose of the political economy program is to provide undergraduate students with the opportunity to study more intensely the relationship between the political and economic spheres of society. The program is based on the belief that a focused examination of this relationship provides better understanding of several social phenomena. Chief among these is a better understanding of public policy choices and the policymaking process, as well as a better understanding of how government actions affect the process of economic change and vice versa. The Political Economy program is open to all matriculated undergraduate students. Applicants need not be declared majors in either economics or political science. The political economy program provides an excellent preparation for graduate study in the social sciences and for the study of law. The program and its requirements are described in full in the Intercollegial Programs section of this Bulletin.
---
Management Career Certificate
Erwin Blackstone, Adviser
215-204-5027
erwin.blackstone@temple.edu
William Holmes, Adviser
215-204-8175
william.holmes@temple.edu
This certificate program is designed for students who intend to seek employment in the business or nonprofit sectors of the economy. It is designed to provide students with skills that complement those acquired through a traditional liberal arts education and to make the students more appealing to potential employers.
Requirements for the Management Career Certificate