Graduate School
News
M.F.A. Acting Program Achieves Top Tier Ranking Nationally
Education Portal has identified the M.F.A. Acting program at Temple University as second in the country only to Yale University's program! It notes that the two-year program prepares working actors to teach acting at the university level, with a secondary focus on training students in the classics through ensemble acting for careers in television, film, and theater. See education-portal.com/articles/Best_Graduate_Schools_with_Acting_Programs_List_of_Schools.html for more information.
Art History Students and Alumni Achieve Milestones in 2012-13
At the May 2013 commencement ceremony, the Art History Department conferred its highest number of degrees at one time: five Ph.D.'s and twelve M.A.'s. In addition, during the 2012-13 academic year, achievements by Art History students included:
37 conference papers and invited talks
4 published essays
Editorial board positions with the

International Journal of the Inclusive Museum

and the

Journal of Homosexuality

Graduate Student Paper Prize, Delaware Valley Medieval Association
Promotion to Associate Professor at the Community College of Philadelphia
Scholarships and fellowships: American Research Center in Egypt Fellowship; CHAT Grad Associate Fellowship; Common Ground Publishing's Graduate Scholar Award; Dean's Grants for Student Research; Dissertation Completion Grant, with successful completion; Duke University/Delmas Foundation Scholarship; Fulbright Fellowship; Getty Center Travel Grant; Henry Luce Foundation/ACLS Dissertation Fellowship; Huntington Library Research Fellowship; Koninklijk Nederlands Instituut Rome Research Grant; Kress Foundation Fellowships; McNeil Center for Early American Studies at the University of Pennsylvania Research Associateship; Rome Fellowship; Smithsonian American Art Museum Pre-Doctoral Fellowship; Temple Summer Research Experience Award; University Fellowships
View a full list of student and alumni achievements for the 2012-13 academic year.
Doctoral Candidate in Psychology Wins Travel Award to Present at Convention
Carrie Potter, a doctoral candidate in Psychology, is the recipient of the NIDCR "Building Bridges" APS Convention Travel Award from the National Institute of Dental and Craniofacial Research (NIDCR) for travel and hotel expenses. Carrie will use the funding to attend and present her poster entitled "Panic Symptoms Within Dental Anxiety: Implications for Treatment" at the 25th Annual Convention of the Association for Psychological Science (APS), to be held in Washington, DC, on May 23-26, 2013. APS has also awarded Carrie with discounted convention registration, a year's complimentary membership, and a year's free subscription to all APS journals.
M.F.A. Candidate in Film and Media Arts Awarded Filmmaking Grant
David Romberg, an M.F.A. candidate in Film and Media Arts, has been awarded the 2013 Heineken VOCES Award for Documentary for Man of the Monkey. Intrigued by the tale of a scary man living in isolation with his chimpanzee wife, David travels to his childhood home on Ilha Grande, an island off the coast of Rio de Janeiro state, Brazil, to find the man. He discovers that the tale pales in comparison to what he uncovers. In association with the prestigious Tribeca Film Institute, Heineken VOCES is a highly competitive grant awarded to Latino filmmakers over 21 living in the United States and working on a feature-length project that offers new perspectives on their cultural experience. The mission of the grant is to encourage American Latino filmmakers to redefine, invent, explore, and create visions and stories that reflect their diverse cultures.
Doctoral Candidate in Kinesiology is First Author on Published Paper
Dianne Babbitt, a doctoral candidate in Kinesiology, is the first author on a paper published in the International Journal of Hypertension. Dianne and her co-authors report on a clinical study in "Endothelial Activation Microparticles and Inflammation Status Improve with Exercise Training in African Americans." Among the paper's "firsts" are that it is the first study to show that aerobic exercise training changes endothelial microparticles, as well as the first controlled study of the effect of aerobic exercise training on endothelial function in African Americans.
Doctoral Candidate in Kinesiology to Make Poster Presentation at NIH Symposium
Boa Kim, a doctoral candidate in Kinesiology, has had her abstract entitled "P108 Inhibition of Drp1-Dependent Mitochondrial Division Delays Myogenic Differentiation" selected for a poster presentation at a National Institutes of Health symposium. Scheduled for May 6-7, 2013 in Bethesda, MD, the 2013 National Heart, Lung, and Blood Institute (NHLBI) Mitochondrial Biology Symposium: Mitochondrial Genetics in Health and Disease is one of most prestigious scientific meetings in mitochondrial biology and only accepts a few outstanding study abstracts. During the poster reception, Boa will have the opportunity to engage organizers and other speakers in scientific dialogue about her research. Her abstract will be published in the Symposium's program guide, an electronic file that is shared with all participants.
Doctoral Candidate in Urban Studies Receives AAUW American Fellowship
Sendy Guerrier, a doctoral candidate in Urban Studies, has been selected to receive an AAUW American Fellowship for the 2013-14 academic year. AAUW (American Association of University Women) provides one of the world's largest sources of funding for graduate women. Its awards are highly competitive. The competition for Sendy's dissertation fellowship award was open to women who have completed all coursework, passed all preliminary examinations, and received approval for their research proposals — and who will complete their dissertation writing between July 1, 2013 and June 30, 2014. Sendy's dissertation is entitled "A Feminist Geographic Analysis of the Impact of Social Networks on the Labor Market Outcomes of Haitian Immigrants Employed in the Long-Term Care Industry."

Doctoral Candidate in Dance Directing Fulbright-Sponsored Research Project
Robert Bingham, a doctoral candidate in Dance and Fulbright Scholar Award recipient, will travel to Berlin, Germany in Summer 2013 to conduct a Fulbright-sponsored choreographic research project. Called the "Migration Project," this eight-week research laboratory will intensively engage six to eight expatriate artists from diverse nationalities and backgrounds in sharing knowledge about the creative process. The project is rooted in the twin principles of generous circulation of ideas and collective support for risk-taking. The purpose is to provide a space for participants to crack the shell of habit and create room for new work ideas, new methods for working, and new creative partnerships. The creative process will be further extended as the artists share with the public by both teaching and showing material. Tanzfabrik Berlin, a center for contemporary dance and dance research, will host the project May 21-July 11, 2013.
For 20 years, Robert Bingham has performed in and created experimental choreography throughout North America. He is a frequent collaborator, most recently working with performance artist Laurel Jay Carpenter on the ongoing project CocoRose LIVE! Robert has an extensive background in somatics, including graduation from the Eastwest Somatics Institute. This background informs his approaches to dancing, teaching, writing, and experimentation with video and photography. Learn more about Robert Bingham at www.robertbinghamdance.com.
Doctoral Candidate in Dance Earns Teaching Award
Colleen Hooper, a doctoral candidate in Dance and University Fellow, has been elected as the Graduate Student Representative to the Board of Directors of the Society of Dance History Scholars (SDHS).
Doctoral Candidate in Psychology Earns Teaching Award
Jeremy Peterman, a doctoral candidate in Psychology, has been awarded the CLA Distinguished Faculty Teaching Award–Graduate Instructor. The award, which comes with a $750 stipend, will be presented at a ceremony on May 15, 2013.
M.F.A. Candidate in Theater/Acting Stars in Walnut Street Theatre Production
Julie Czarnecki, an M.F.A. candidate in Theater/Acting, is a critically acclaimed actress and singer from Philadelphia. From March 12 to April 28, 2013, she is portraying Margie, the title role in Good People, at the Walnut Street Theatre. She is earning rave reviews in the role.
In Fall 2012 at Temple, Julie was featured in the play The Marriage of Bette and Boo, directed by Dan Kern. She has worked extensively in Philadelphia, as well as regionally. Some Philadelphia career highlights include God of Carnage, Fiddler on the Roof, and My Fair Lady (Walnut Street Theatre), Tom Stoppard's Rock 'n' Roll (Wilma Theater), Miss Witherspoon (New City Stage Company), Daedalus and The Baker's Wife (Arden Theatre Company), Big Blonde and Hearts & Soles (Theatre Exile), and Two Rooms (Azuka Theatre and Blue Ridge Summer Theatre Festival).
Julie has acted in numerous films, commercials, and industrial videos. She was recently featured in the national commercial for Car Sense and the "Loves Me Not" episode of the Emmy-nominated television series Maple Ave. Julie already holds one master's degree in Theatre from Villanova University, where she was an Acting Scholar and the 1999-2000 recipient of the coveted Brian Morgan Scholarship for Acting.
Former Future Faculty Fellow Produces and Directs Upcoming Documentary Film
Roxana Walker-Canton, a former Future Faculty Fellow in Film and Media Arts, is producer and director of the documentary entitled Living Thinkers: An Autobiography of Black Women in the Ivory Tower. This documentary examines the intersection of race, class, and gender in the experiences of contemporary Black women professors and administrators in academia. Living Thinkers reveals the travails, disappointments, and triumphs of becoming Black women professors in the United States. The trailer is available at https://vimeo.com/62421674. Ms. Walker-Canton is Assistant Professor of Visual and Performing Arts at Fairfield University.
Writing Center Offers Writing Retreats
The Writing Center offers writing retreats that are designed to help graduate students and faculty with their writing projects, including dissertations, proposals, and articles for publication. The writing retreats offer intensive and focused writing time, one-on-one mentoring, goal-setting support, fellowship, and motivation. A nominal fee is charged for each retreat to cover program costs. For more information or to register for this or another writing retreat, visit the Writing Center's website.
Fourth Annual Temple University Graduate Fellows Research Symposium
The event was held on September 15, 2012. Click on the cover below to view the program booklet: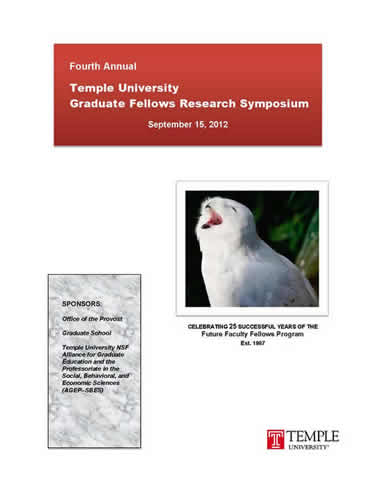 M.F.A. Candidate in Film and Media Arts Receives Award from the Princess Grace Foundation
Fiona Otway, an M.F.A. candidate in Film and Media Arts, has been awarded a Grant Film Scholarship from the Princess Grace Foundation. Her award of $25,000 will support work on her thesis film.
Doctoral Candidate in Psychology Earns Impressive Score on F31 Grant Proposal
Jonathan Stange, a doctoral candidate in Psychology, received his score for his National Institute of Mental Health (NIMH) National Research Service Award (NRSA) F31 grant entitled "Inflexibility and Vulnerability to Depression." Mr. Stange's impact score was 14, with 6.0 percentile. This excellent score indicates that the proposal has a good chance of being funded.
Doctoral Candidate in Kinesiology Awarded AHA Predoctoral Fellowship
Boa Kim, a doctoral candidate in Kinesiology, has been awarded a Winter 2012 Great Rivers Affiliate Predoctoral Fellowship by the American Heart Association for her work entitled "Effects of Laminar Shear Stress on Mitochondrial DNA Integrity in Endothelial Cells." This highly competitive predoctoral fellowship award is one of the major fellowship awards in cardiovascular research. The award period runs from July 1, 2012 to June 30, 2014, with a progress review at the conclusion of the first year. The stipend for the two-year period is $25,000 per annum. Ms. Kim is a former awardee of a University Fellowship from Temple.
Doctoral Candidate in Psychology Receives Dissertation Award
Amanda Morrison, a doctoral candidate in Psychology, has been selected as the 2012 recipient of the John R. Z. Abela Dissertation Award from the Association for Behavioral and Cognitive Therapies (ABCT). She was also the recipient of a Society for a Science of Clinical Psychology (SSCP) Dissertation Award in 2011. Ms. Morrison's dissertation is entitled "Attention Bias and Attentional Control in the Development of Social Anxiety Disorder."
Advanced Clinical Psychology Students Matched to Internships
The Department of Psychology proudly reports that 100% of its advanced clinical Ph.D. students who applied for an internship in 2012 matched to an internship site. The internship sites to which they matched are highly prestigious. This is an especially impressive statistic, given that 29% of internship applicants across the nation this year did not match to any internship -- and cannot receive their doctoral degrees without an internship position. Congratulations to Temple's psychology interns:
Shimrit Black
Julie Edmunds
Dawn Eichen
Kim Goldstein
Elizabeth Gordon
Ellen Jorstad-Stein
Kelly O'Neil
Connor Puleo
Colette Seter
Judy Wong