Temple University
Academic Calendar
Letter from the Dean
Programs of Graduate Study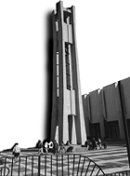 Every day, Temple students apply their talent and determination in classrooms, laboratories, and libraries, preparing for futures ripe with promise. As they do, they continue a tradition begun in 1884 by Dr. Russell H. Conwell, who founded the University on the premise that those who have the imagination to dream and the desire to work should also have the opportunity to make their dreams come true. Under the leadership of its seventh President, Peter J. Liacouras, Temple is moving confidently to become one of America's premier senior, comprehensive research universities. There are over 28,000 full-time and part-time students at Temple from all walks of life. A member of the Commonwealth System of Higher Education since 1965, the University has more than 1,700 full-time faculty and more than 210,000 living alumni(ae). It offers bachelor's degrees in 121 areas, master's degrees in 115 fields, doctoral degrees in over 50 areas.
Temple's Main Campus covers 94.5 acres in North Philadelphia. The Health Sciences Center, located just north of the Main Campus, includes Temple University Hospital, Temple University Children's Medical Center, the School of Medicine, School of Dentistry, School of Pharmacy, and College of Allied Health Professions (including Nursing). Also, the School of Podiatric Medicine, located at Eighth and Race Streets in Center City Philadelphia, is part of the Health Sciences Center. Temple University Ambler is situated on 186 acres of rolling fields in suburban Montgomery County, and the Fort Washington Campus is a graduate and professional education center featuring corporate style classrooms and state-of-the-art computer labs.
The University has two other Philadelphia area campuses—The Tyler School of Art; and Temple University Center City, which offers continuing education and cultural programs. In 1987, the University also opened its Harrisburg Learning Center. There are also two overseas campuses, Villa Caproni in Rome, Italy, and Temple University Japan in Tokyo and Osaka, as well as educational programs in the People's Republic of China, Israel, Greece, Great Britain, France and other countries throughout the world.
Sixteen schools and colleges make up Temple University. Fourteen of them offer graduate programs—the College of Allied Health Professions, Tyler School of Art, Fox School of Business and Management, School of Communications and Theater, School of Dentistry, College of Education, College of Engineering, College of Liberal Arts, School of Medicine, Boyer College of Music and Department of Dance, School of Pharmacy, College of Science and Technology, School of Social Administration, and School of Tourism and Hospitality Management. Temple University houses four outstanding professional schools: Dentistry, Law, Medicine, and Podiatric Medicine.
The University's Samuel Paley Library has more than 2.3 million volumes and 15,000 current serial subscriptions in its collection. The Albert M. Greenfield Center at SugarLoaf and the Eleanor Widener Dixon House comprise the University's Conference Centers on some 40 acres in the Chestnut Hill section of Philadelphia.
---