Academic Programs / Business & Management


College Graduation Requirements
The degree of Bachelor of Business Administration (BBA) may be conferred upon a student by recommendation of the faculty and upon the satisfactory completion of a minimum of 123 semester hours of credit with a minimum cumulative GPA of 2.3 overall and in the major. A minimum of 123 credit hours will be earned in the following four requirement categories:


(Note: The University is reviewing all school and college, major, and GPA requirements above 2.0. Please refer to the electronic Bulletin for up-to-date information at www.temple.edu/bulletin/academic_programs.)
University Core Curriculum Requirements
Fox School of Business and Management lower and upper division Requirements
Major requirements
Electives
---
University Core Curriculum
---
Fox School of Business and Management Requirements
Lower Division Foundation Requirements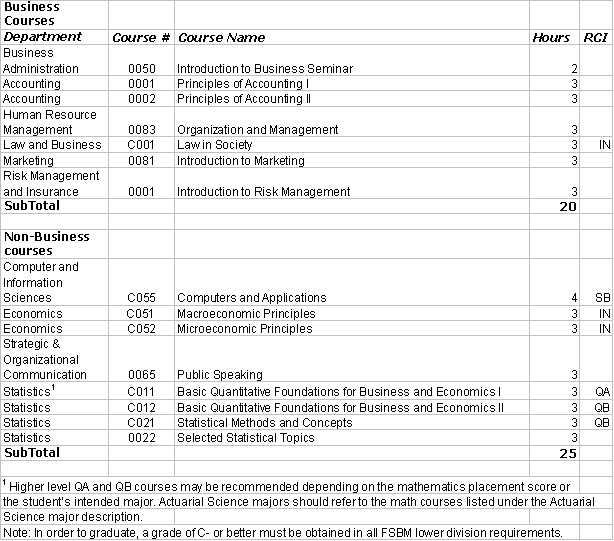 Upper Division Foundation Requirements (limited to juniors and seniors)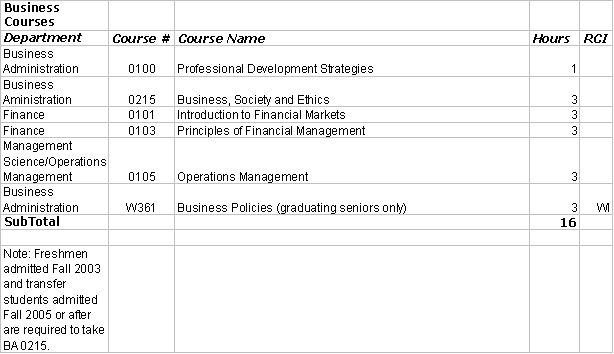 ---
Major Requirements
Thirteen business courses (36 s.h.) and eight non-business courses (25 s.h.) are required as part of the lower and upper division foundation requirements for the BBA program. In addition, a minimum of nine business courses must be completed in the major, which is comprised of 1) required major courses, 2) one information technology course, 3) an international course, 4) one 200+ Economics course, 5) and business electives.
NOTE: Many upper-division foundation courses and major courses have prerequisites. Some of these prerequisites also include grade requirements. Students are required to meet all prerequisites. The School reserves the right to de-enroll students from courses when prerequisites have not been met. Prerequisites will be strictly enforced. The majority of the major course work, as well as all prerequisites, must be completed prior to taking the capstone course for the major. Students not meeting the requirements for the courses they enroll in may be de-enrolled from those courses. You can review course descriptions at http://www.temple.edu/bulletin/Academic_programs/chart_degrees/chart_program/chart.shtm
Electives
Free electives: Students who have satisfied all of the requirements listed above may need to take additional credits to achieve the 123 credit minimum required for graduation. These credits may be taken in either business or non-business courses.