Academic Programs / Communication & Theater


Strategic and Organizational Communication
Aram A. Aghazarian, Chair
Weiss Hall 213
215-204-1882
a.aghazarian@worldnet.att.net

Note: Department chairs frequently change at the beginning of the academic year. Students should contact departments for updated information.
The Department of Strategic and Organizational Communication educates students in the theory and practice of public communication and leadership, with the primary emphasis on communication and social influence or advocacy. The department's three concentrations focus on persuasion, communication in organizations, and communication strategies for influencing internal and external audiences.
Summary of Requirements
The degree of Bachelor of Arts may be conferred upon a student majoring in Strategic and Organizational Communication by recommendation of the faculty and upon satisfactory completion of a minimum of 126 semester hours of credit with a cumulative average of 2.0 overall and in the major. Students must meet:
1. University requirements
2. School of Communications and Theater requirements
3. Major requirements in the department
Department Requirements
All majors must complete at least 36 credit hours in Strategic and Organizational Communication, including the department's four core courses (12 hours). Students must earn a 'C' or better in all courses required for the major.

Department Concentrations
The department offers three concentrations: Public Communication, Organizational Leadership, and Public Relations. In addition to completing the department core, students must select a concentration and complete the concentration core, advanced courses in the concentration, and courses in the other two concentrations. Students may also be required to complete courses outside the department.
Public Communication Concentration
The public communication concentration provides students with theory and practice in social influence. Students learn theories of advocacy in a variety of settings, gain experience in critical analysis of persuasive messages, and develop skills in creating strategic communications.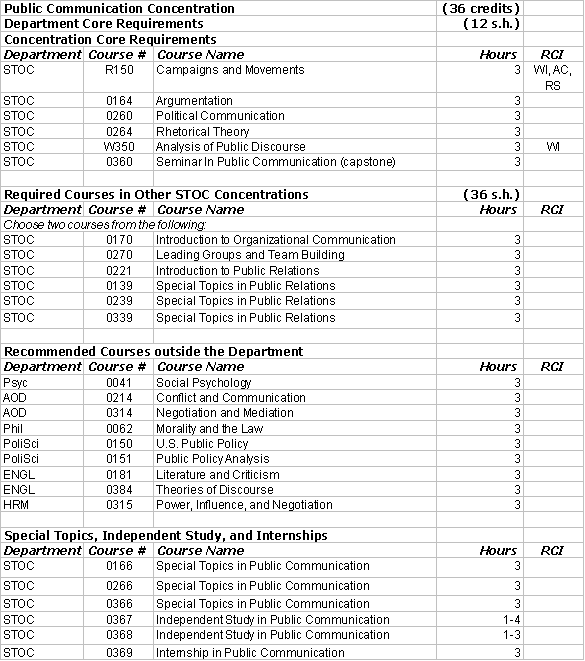 Organizational Leadership Concentration
The concentration in Organizational Leadership provides students with a thorough grounding in organizational and small group communication. Students' coursework in these areas will incorporate a special focus on both the theories and skills needed for the creation and maintenance of fruitful leader/follower relationships.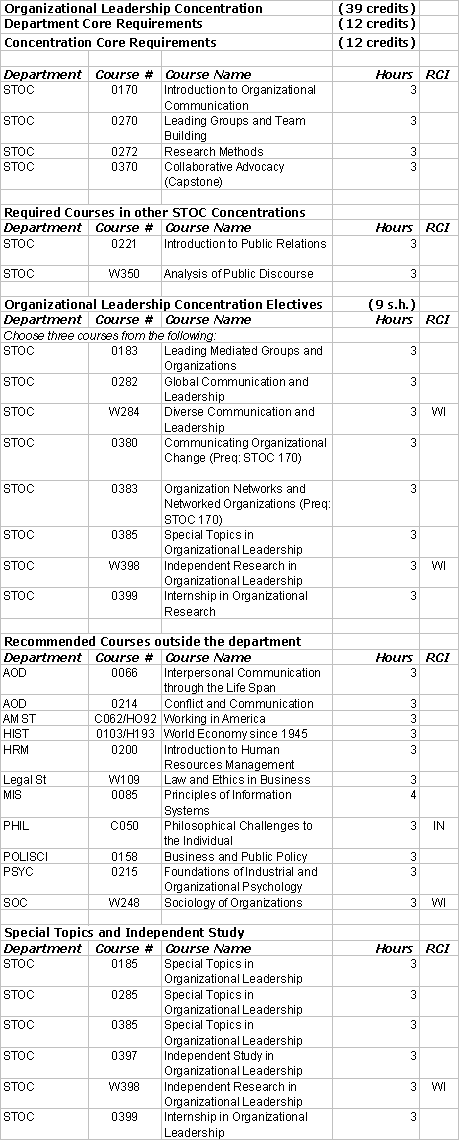 Public Relations Concentration
Public Relations is about using communication techniques to influence behavior and attitudes. The concentration combines public relations classes with requirements in public speaking, leadership, and persuasion, and is satisfied through completion of 36 semester hours with a cumulative average of 3.0 in the major.*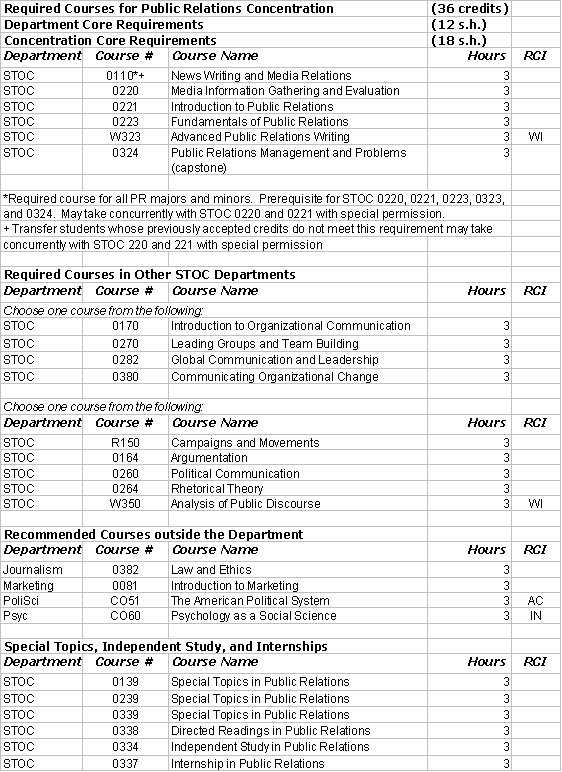 *(Note: The University is reviewing all school and college, major, and GPA requirements above 2.0. Please refer to the electronic Bulletin for up-to-date information at www.temple.edu/bulletin/academic_programs.)