Academic Programs / Communication & Theater


Broadcasting, Telecommunications and Mass Media
Betsy Leebron, Ph.D., Chair
(215) 204-5401
betsy@temple.edu
Department Office:
Annenberg Hall Room 6
Jack Klotz, Undergraduate Contact
Director of Advising and Recruiting
215-204-5823
email: jklotz@temple.edu
http://www.temple.edu/btmm
Note: Department chairs frequently change at the beginning of the academic year. Students should contact departments for updated information.
The department of Broadcasting, Telecommunications and Mass Media provides programs of study in the production, management, institutions, and social processes of broadcasting, telecommunications and other communications systems.
Students examine both the history and the emerging future of communications technologies. In addition to coursework in their chosen area of study, all students completing the major will be required to demonstrate competency in critical and analytical skills and a level of computer literacy related to their disciplinary interests in research or creative work.
All students are expected to develop the following competencies:
● Understanding the development of communication theories and technologies, along with approaches to communication drawn from the artistic, humanistic, and social sciences perspectives
● Understanding the relationships of communication organizations
● Developing communication skills that promote active listening and productive feedback
● Understanding of communication vocabulary, fostering active participation in the discipline
Students may focus in one or more of the following four interrelated areas of coursework:
Production: the writing, editing, and producing of work in radio, television, and new technologies particularly for commercial, corporate, and instructional purposes.
Organization and Management: business practices and strategies for media and telecommunications institutions, industries, and professional enterprises.
Institutions: history, economics, law, regulation, and policy pertaining to the broadcast, cable, and new technology industries.
Social Processes: the psychological, social, cultural, and political analysis of media, particularly in terms of their impact on everyday life.
Theory and practice are balanced and integrated into all areas of study in Broadcasting, Telecommunications and Mass Media to allow the students to become well-rounded communications professionals, as well as knowledgeable media consumers.
Internships and Senior Seminar-
All majors are required to take 1) an internship or practicum and 2) senior seminar, which together are designed to explore each studentís professional future upon graduation. Hundreds of businesses, non-profit organizations, and institutions in the Philadelphia and New York metropolitan area and beyond cooperate in providing opportunities for BTMM students to work in relevant professional ways for course credit. Students interested in further academic degrees can serve as research assistants in related media organizations and institutions. To qualify for an internship, students must have at least junior standing, a 2.5 GPA in the major, and completed the BTMM foundation courses.
Requirements for the degree of Bachelor of Arts
Summary Requirements
1. University core curriculum requirements including completion of library orientation.
● Temple University Core requirements. See Core Curriculum
● Maximum of 71 credits in the School of Communications and Theater
● Minimum of 40 credits in BTMM, maximum of 54 credits in BTMM
2. Major Requirements:
● BTMM Foundation Courses: 0011 (Mass Communication Theory), 0020 (Mass Media and Society), 0040 (Media in Everyday Life) completed in the first 45 hours at Temple University. Students transferring in 45 or more credits may complete two out of the three BTMM foundation courses. Transfer students with 45 or more transfer credits must complete at least one BTMM foundation course at Temple, or be exempted by the Chair of the department.
● C- or better in BTMM Core 0011, 0020, 0040
● C- or better in each course fulfilling requirements for major
● At least four courses numbered above 0200 to 0389
● No more than 20 semester hours of transfer credits may be applied to the BTMM major.
● BTMM 0070 is a prerequisite for BTMM 0150, 0170, 0171, 0172, 0175
● All prerequisites for studies courses must be met unless otherwise exempted in writing
● BTMM 0395: Senior Seminar in last 30 hours
● At least one of the following: BTMM 0371, W372, W377 or 0391: internship or practicum
● No more than 12 credits of internship, practicum and independent study
● GPA 2.00 in major
● No more than 8 credits of Kinesiology
Suggested Semester-by-Semester Plan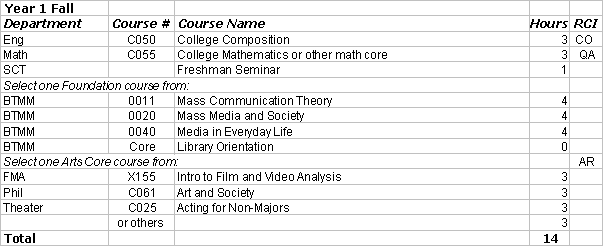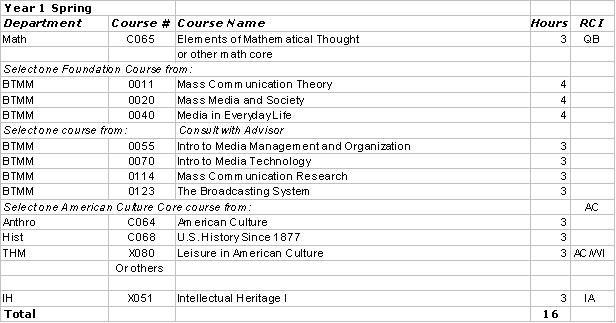 *Four year total must equal 126 credit hours.