Academic Programs / Education


Kinesiology
William Oddou, Undergraduate Coordinator
(215) 204-8716
weoddou@temple.edu
The undergraduate program in Kinesiology leading to the Bachelor of Science degree requires students to complete coursework in three broad areas: the University Core Curriculum, the discipline of Human Movement, and a professional application track or advanced study in the discipline of Human Movement.
The University Core Curriculum is divided into ten categories (i.e., intellectual heritage, composition and writing, individual and society, foreign language/international studies, quantitative analysis, arts, American culture, studies in race, science and technology, and library orientation). Even though there are numerous courses which can be taken to meet these requirements, the department requires Anatomy and Physiology (Kines C100 and C101) for the science and technology requirement and both Introduction to Sociology (SOC C050) and Psychology as a Social Science (PSY C060) for the individual and society requirement. All University Core courses must be completed with a minimum C- grade in order to count toward graduation.
The discipline of Human Movement includes a group of foundation courses (Kinesiology 0001, 0202-0206) that deal with the intellectual, physical, social, psychological, and philosophical factors which influence and are influenced by human beings as they move. In addition to taking the foundation courses, students are required to satisfy the forms of movement competency requirement, which consists of developing knowledge and skills in a broad spectrum of movement activities (i.e., aquatics, fitness, survival, and lifestyle).
The professional application tracks allow students to concentrate their studies in one of four areas (i.e., athletic training, exercise and sport science, teacher education (PHETE), and human movement studies). Students select the tracks that satisfy their professional goals.
The Undergraduate Athletic Training Program prepares students to work with physically active populations at all levels of competition. The athletic trainer functions as an integral member of the athletic health care team in secondary schools, colleges, universities, professional teams, and sports medicine clinics, providing leadership in the prevention, evaluation, immediate care, and rehabilitation of sport related injuries. The athletic training program requires fulfillment of both academic courseware and clinical fieldwork experiences. This program of study is approved by the Commission on Accreditation of Allied Health Educational Program (CAAHEP) and is designed to prepare students for certification as athletic trainers by the National Athletic Trainers' Association (NATA) and for Class "A" certification in the Commonwealth of Pennsylvania.
Admission into the athletic training program occurs upon students identifying athletic training as their intended course of study. This admission may take place either during the freshman year or any time afterward.
The Undergraduate Exercise and Sport Science Program provides students with knowledge and competencies required for professional service in a variety of sport, fitness, wellness and rehabilitation settings. The Exercise and Sport Science Program also prepares students for graduate study in exercise physiology or in a variety of related allied health professions. Program competencies include health screening, fitness assessment, exercise program development, health-fitness counseling, and therapeutic exercise supervision of patients with special needs. Concentration courses include, but are not limited to: advanced exercise physiology, exercise in health and disease, exercise testing and programming, electrocardiography, exercise and aging, and applied technology. The exercise and sport scientist understands the complexity of the human body and the interaction among physical activity, exercise and good health. The improved function, health, and wellbeing of the total person-Body, Mind, and Spirit are the ultimate goals of professionals in this field.
The exercise scientist applies their knowledge, skills, and beliefs to all people regardless of gender, age, social status, and current health-related fitness level or disease state. Wherever there is a need to improve functionability, health-fitness, medical prognosis, optimal aging, or wellness, one will find an exercise scientist providing leadership in programs that help individuals optimize their lives and health. In summary, exercise science is a stimulating area of study and a rewarding professional application with a very bright future.

The Department of Kinesiology offers two programs in Exercise and Sport Science at the undergraduate level. They are;
Option I-Exercise and Sport Science-Health/Wellness
Option II-Exercise and Sport Science-Health/Wellness/Pre-professional
Teacher education is the focus of the undergraduate Physical and Health Education Teacher Education (PHETE) track. This concentration prepares students to teach physical and health education in public and private schools (grades K through 12). The PHETE program integrates academic preparation with fieldwork experiences each semester, culminating in a dual level (secondary and elementary) full semester of student teaching experience. Coursework in discipline specific content, methods of teaching, assessment and evaluation, educational psychology, educational foundations, cultural diversity and adapted activities, and administration all help teacher education students assume their roles as competent teachers in today's society. Admission into the PHETE program takes place after the sophomore year upon completing the pre-admission coursework; two in-school teaching experiences; the Pre-Professional Skills Tests in reading, mathematics, writing; and the Praxis test in fundamental content knowledge, as well as an interview with the PHETE faculty. All PHETE and Public Health courses must be completed with a minimum B- grade in order to count toward certification. A cumulative GPA of 3.0 or greater is required for admission and certification. After admission one additional Praxis test is required for certification: Heath and Physical Education Content Knowledge. Upon completion of the program, and after passing the appropriate standardized tests, graduates will be licensed to teach by the Commonwealth of Pennsylvania.
(Note: The University is reviewing all school and college, major, and GPA requirements above 2.0. Please refer to the electronic Bulletin for up-to-date information.)
The Department of Kinesiology offers a personalized option program under the heading of Human Movement Studies. This program affords students the academic freedom to create and construct a personalized program of study. Such programs of study have to be unique and driven by the student's short term educational or professional goals. These programs must relate to the Discipline of Kinesiology and must be outside the scope of the primary programs as discussed above. These programs are; Athletic Training/Sports Medicine, Exercise and Sport Science, and Teacher Education.
A personalized option program will combine an expanded Liberal Arts and Sciences base with the Kinesiology core and a clearly defined personalized option. This combination of course work and practical experience will position the student for various professional applications and/or continued study at the graduate level. Such personalized option programs might focus in the following areas; Sport Psychology, Sport Journalism, Sport Sociology, Fashion Design, Sport or Health-Fitness Law, Sport or Health-Fitness Medicine, or Pre-allied Health.
Students must declare their intentions in Human Movement Studies and submit a personalized program of study to their Department advisor by the time they acquire 90 credits. To be eligible for graduation the student must spend one full academic year (F/S) as a student in good standing within the Human Movement Studies program and complete their Independent Study (Senior Thesis) in and around the personalized option so designated.
Curriculum and Degree Requirements
All students must complete 1-4 below:
1. University Core Curriculum Courses (35-40 s.h.)
2. Human Movement Core Courses - PE 0001, 0202-0206 (20 s.h.)
3. Forms of Movement Courses - PE 0008-0099 (6-10 s.h.)
4. Advanced experience, program requirements, and elective courses (67-70 s.h.)
Note: All courses that serve as prerequisites for other courses in the Department of Kinesiology must be completed with a minimum grade of C-. Departmental core and track requirements must be satisfactorily completed prior to enrolling in any internship.
Professional Option Requirements
Students may select a professional application track and electives to complete the 128 semester hours required for graduation. There are three options: I. Physical and Health Education Teacher Education (PHETE), II. Athletic Training and III. Exercise and Sport Science. They are more fully described below.
Physical and Health Education Teacher Education (Phete)

Athletic Training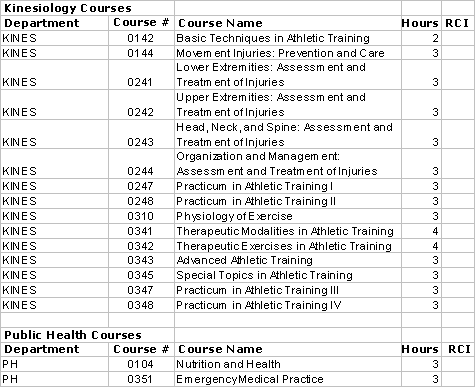 Exercise and Sport Science