Academic Programs / Education


Elementary Education
Dr. Aida Nevarez-LaTorre, Lead Professor
(215) 204-6189
aida.nevarez-latorre@temple.edu
Elementary Education (with Early Childhood Education and/or Special Education)
The Elementary Education program is designed to prepare teachers to work in programs servicing children in nursery school, kindergarten, primary, and intermediate grades. It is designed to help students gain an appreciation and understanding of children, develop personally and professionally, and acquire a sound philosophy of education.
By working directly with children several times prior to student teaching, the student can study the reactions of children of various ages to different situations and thereby gain insight into the creation of learning situations and the planning of teaching procedures which meet the needs of children.
Students must be accepted into the certification program prior to taking methods courses (see adviser). Observation, participation, and teaching within the practicum are further extended during student teaching where competency of teaching skills is demonstrated.
Early Childhood Education and Special Education Options
Cathleen Soundy, Early Childhood, Lead Professor
(215) 204-6129
csoundy@temple.edu

Terry Meddock, Special Education, Lead Professor
(215) 204-8073
tmeddock@temple.edu
In the new undergraduate program, all students will obtain certification in Elementary Education. Students must then choose an additional area for certification in either Early Childhood Education or Special Education. In addition, a third certificate may be obtained by taking additional course work (beyond the 128 credits required for the double certificate program).
General Studies, Professional Course Sequence and Core Requirements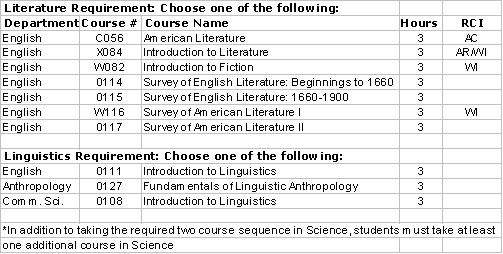 Several restrictions and additions to the requirements listed above (see Other Requirements for College of Education Students) apply to students in this program:
Program Requirements (for existing program)
Elementary Education

Early Childhood Option

Special Education Option for Students Admitted Prior to 2003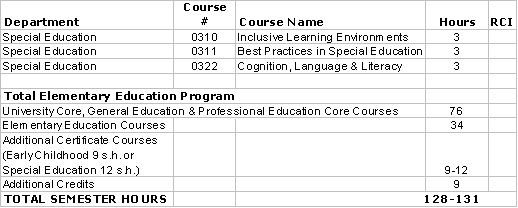 Special Education Option for Students Admitted for Fall 2003
All requirements for the Elementary Education program must be completed, and five s.h. of Student Teaching Elementary/Special Education 0381 must be in a Special Education placement. In addition, the following courses must be completed.
Note: A new sequence of courses for special education certification will be required for students admitted after July 1, 2003. Students should contact the Office of Student Services for specific details about these requirements.