Academic Programs / Health Professions


Therapeutic Recreation
John Shank, Ed. D., CTRS, Chair
1700 N. Broad St.
Suite 313
Philadelphia, PA 19122
Main Office Phone: 215-204-2703
Fax: 215-204-1386
rectherapy@temple.edu
http://www.temple.edu/TR

Note: Department chairs frequently change at the beginning of the academic year. Students should contact departments for updated information.
The Department of Therapeutic Recreation is composed of three degrees: a B.S. in therapeutic recreation, an Ed.M. in therapeutic recreation, and an interdisciplinary Ph.D. in Health Studies with a cognate concentration in TR. Recreation therapists use recreation and leisure activities to facilitate recovery, health, and wellness in individuals with disabilities. The primary goal of the undergraduate program is to prepare entry level recreation therapists to deliver rehabilitation, health promotion, and disease prevention programs to individuals with disabilities. Alumni of Temple's therapeutic recreation degree programs can be found in a wide range of health and human services agencies. They are employed in diverse settings, including hospitals, rehabilitation centers, nursing homes, assisted living facilities, schools, and community recreation agencies. According to the U.S. Department of Labor, employment opportunities are expected to continue growing due to expansion in long-term care, physical and psychiatric rehabilitation, and services to people with disabilities.
Mission of the Department
The mission of the Therapeutic Recreation Department is to prepare recreation therapists to provide play, recreation, and leisure opportunities as a form of health promotion, rehabilitation, and disease prevention to individuals with disabilities across the lifespan. This mission is achieved through three interrelated components – teaching, research, and service. The teaching mission of the Department is to provide the best and most current teaching techniques and learning opportunities for students at all academic levels and to instill a set of values, ethics, and skills that will guide academic pursuit and professional practice. The Department's mission also includes contributing through research and other scholarly activities to the ever-changing knowledge base in health, leisure, and disability studies. Academic excellence is evident in the pass rate of alumni on the National Certifying Exam in Therapeutic Recreation and the faculty's funded research activities. The Department's service mission is emphasized through faculty and student service to local and regional agencies and organizations, including schools, community recreation providers, and health care and human services agencies. Central to the overall mission of the Department of Therapeutic Recreation is a commitment to access and diversity. This is realized through a commitment to ensuring equal access to all qualified applicants (students and faculty) and a commitment to promoting equal access to recreation and leisure opportunities for all people, regardless of age, economics, race, or abilities.
Certification
Following satisfactory completion of all coursework and internship requirements, graduates with the B.S. degree in Therapeutic Recreation are eligible to sit for the national certifying examination in therapeutic recreation administered by Educational Testing Services and the National Council on Therapeutic Recreation Certification.
Therapeutic Recreation - Bachelor of Science
A Bachelor of Science (BS) degree in Therapeutic Recreation (TR) is awarded to students upon satisfactory completion of a minimum of 120 semester hours of credit with a minimum GPA of 2.0 overall and 2.5 in the major. Students completing this degree are eligible to sit for the national credentialing examination for recreation therapists.
(Note: The University is reviewing all school and college, major, and GPA requirements above 2.0. Please refer to the electronic Bulletin for up-to-date information at www.temple.edu/bulletin/academic_programs.)
Summary of Requirements
1. University Requirements. Students must complete University Core requirements (36-43 s.h), including 9 semester hours of writing intensive courses (WI). A statistical methods course must be taken to satisfy the second level Quantitative Reasoning (QB) core requirement. Certain courses fulfill both University Core requirements and major requirements. These include Kinesiology C100 (first level science core requirement), and Health Related Professions C050 (Individual & Society Core).
2. Major Requirements. Students must complete a set of specific courses in the major, including two credit-earning field-based clinical internships (TR 0280 and TR 0380). Students may choose from a list of approved external related electives, which are courses related to the major but offered outside the Department. Students must also complete other non-credit earning requirements as part of the major, including 150 hours of volunteer experiences relevant to the major, certification in First-Aid/CPR, and a Library Skills competency test.
The following grid displays required courses. Please note that, unless specified otherwise, students may select from a number of University-approved courses in the various areas of the Core Curriculum.
An asterisk (*) after the Core Indicator indicates the Writing Capstone.







Note: Students may lighten their academic load in the fall and spring semesters by taking classes during the summer sessions. Please see your advisor to explore summer course offerings and suitable options.
Transfer Curriculum
The following course sequencing is based on meeting Temple University's Core-to-Core -Transfer requirements for students with an approved associate degree from a community college with an approved Core-to-Core agreement. (See Core Transfer programs at www.temple.edu/bulletin/Academic_programs/core/transfer_programs/core_transfer_programs.shtm). If your transfer courses do not include coursework in anatomy and physiology, human growth and development, and abnormal psychology, you will be required to take these courses as part of your B.S. degree. In some instances, the general elective requirements identified may be used to meet this requirement. Students should check with their academic advisor and faculty mentor regularly to make certain they are meeting all requirements to be eligible for graduation.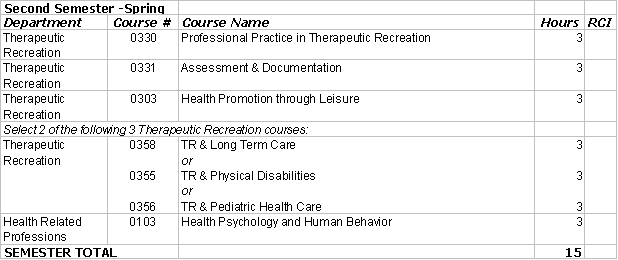 ---