Academic Programs / Communication & Theater


DEPARTMENT OF JOURNALISM
Bonnie S. Brennen, Ph.D., Department Chair:
316 Annenberg Hall
215/204-5023
journ@temple.edu
The curriculum for Journalism is based on the conviction that proficiency in the field requires a broad educational background coupled with rigorous professional training. The curriculum emphasizes subject matter from other disciplines, particularly those in the traditional liberal arts and sciences. The department also believes that effective writing is central to communication and is, therefore, a common theme in the department curriculum. The department has recently established the Multi-Media Urban Lab, (MURL) on the Center City Campus, which includes courses that are taught by affiliated faculty working in the field.
Students need to meet the department's foundation requirements, as well as the requirements of their chosen sequence. The Journalism sequences are: Broadcast Journalism, Magazine, News-Editorial, and Photography for the Mass Media.
Students who major in Journalism enter a variety of careers, including those as broadcasters, online and news reporters, news producers and managers, graphic designers, photographers, radio and television anchors, and magazine writers and editors..
Although students must ultimately be responsible for their own academic programs, freshmen and first-semester transfer students will first meet with a School of Communications and Theater Academic Adviser. During the sophomore and junior years, a student must meet at least once each year with a faculty adviser who is knowledgeable about the sequence of study the student is following.
The department has a chapter of the national journalism and mass media honor society, Kappa Tau Alpha. Additionally, every spring the department awards thousands of dollars in scholarships to deserving majors. Once a year, the department holds an induction ceremony for the outstanding majors and hosts a nationally known speaker.
There are also active student organizations affiliated with national groups. Temple's Journalism Department is one of the only two programs in Pennsylvania accredited by the Accrediting Council on Education in Journalism and Mass Communication (ACEJMC).
Requirements for the Major
The degree of Bachelor of Arts may be conferred upon a student majoring in Journalism by recommendation of the faculty and upon satisfactory completion of a minimum of 126 semester hours of credit with a cumulative average of 2.0 overall and in the major.
Students must meet:
1.University Core requirements
2.School of Communications and Theater requirements
3.Major requirements in the department
Degree Requirements


The following University-wide courses are required of Journalism majors, some of which also count toward the University Core Curricular requirements: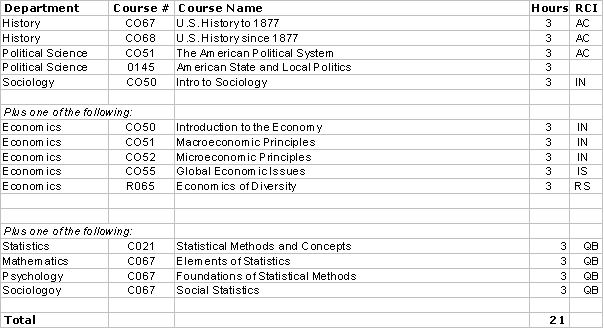 Of the 126 semester hours required for graduation, at least 80 semester hours must be in courses outside Journalism; Broadcasting, Telecommunications, and Mass Media (BTMM); and Public Relations and Advertising, and 65 of those credits must be in liberal arts and science courses. This limits to 15 the number of credit hours taken from Education, Business, etc. if the student plans to graduate with no more than 126 credits.
The remaining semester hours required outside the department may be taken in any department of the University except Business Education. The department also does not count towards graduation credits earned through Sec. Ed. 0317, Topical Studies, Military Science, or the Extern Program.
Only 8 semester hours will be accepted from Physical Education courses. No more than 6 hours total of courses in Psychoeducational Processes (PEP) may be taken, and no more than 30 hours may be taken in any single CLA department or other SCT department without special written permission from the Department of Journalism. These requirements are to ensure a broad-based liberal arts education for each major.
Students required to take English 0040 must complete that requirement before enrolling in Journalism 0150.
Specific Major Requirements
To receive the degree of Bachelor of Arts, students must satisfactorily complete a minimum of 126 credit hours in the University with at least 35 credits in Journalism but no more than 46 credits in Journalism; Broadcasting, Telecommunication and Mass Media (BTMM); Advertising; or Public Relations. Students are cautioned to plan their program so they do exceed the 46-credit hour limit that is set by our accrediting agency.
It is the student's responsibility to meet all course prerequisite requirements.
A maximum of 12 semester hours of Journalism-related coursework may be transferred from a program accredited by the Accrediting Council for Education in Journalism and Mass Communication. (This includes classes in public relations and advertising.) Students transferring from all other institutions will be allowed a maximum of 9 semester hours of Journalism-related transfer credit, including Journalism C055 (Journalism and Society) and Journalism 0150 (Writing for Journalism). Under no circumstances will credit be allowed for duplicate courses.
The department does not award credit for academic or life experience. Students with extensive experience may present evidence and petition for a waiver of department course requirements.
Journalism majors must receive a grade of C or higher in all required department courses and must maintain a minimum GPA of 2.0 in the department as well as the 2.0 overall average required by the University to qualify for graduation. Students who fall below a 2.0 average for a semester, for all department courses or in their overall University courses, will be placed on probation or academic warning, the first step toward dismissal.
Requirements for the Major
Note: Students placed into English 0040 must pass (with a C or better) the two-credit Mass Media Writing lab, JOUR 051. Completion of JOUR CO55 and 0150 with grades of C or better is required before students enroll in any JPRA classes numbered 200 or higher
Total: 12 or 14 credit hours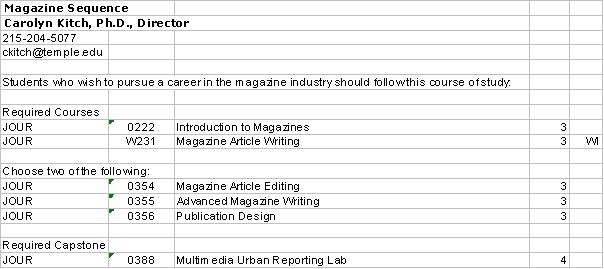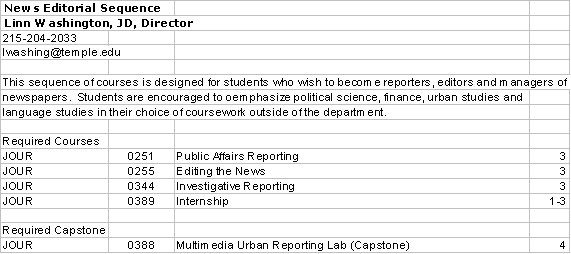 Minor in Journalism
A proposed minor in Journalism is under consideration for Spring, 2005.