Richard M. Englert, President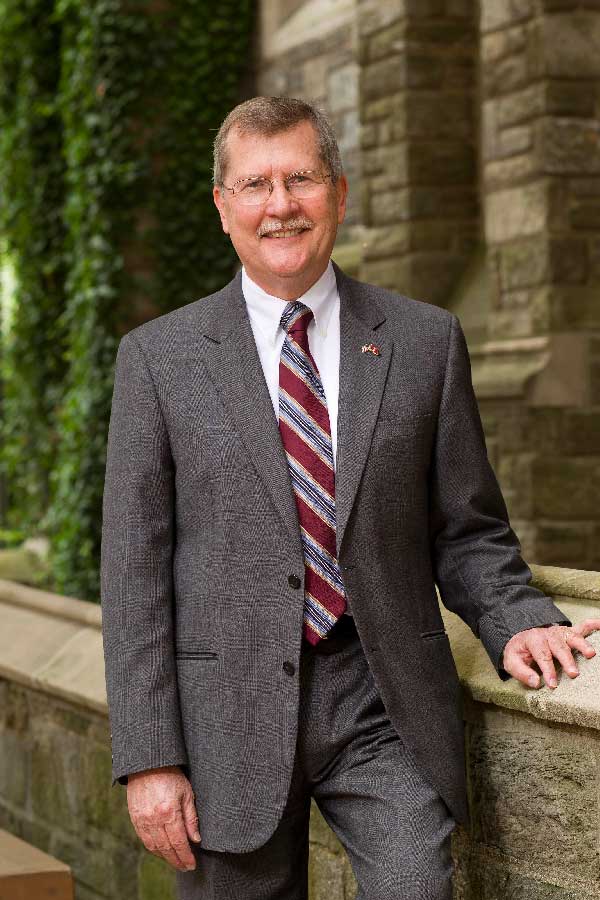 Accessible. High quality. Engaged with the community. Affordable. Diverse. These are the pillars of Richard M. Englert's presidency. They are also the values he has championed at Temple University for more than 40 years.
After serving Temple with loyalty and distinction in 16 different roles since 1976, Englert became president on July 21, 2016. Under his leadership, the university welcomed its largest and most academically qualified class of new students and broke records for freshman applications. It also began major campus renovations, highlighted by the new, state-of-the-art Charles Library. At the same time, Temple's faculty gained unprecedented national recognition, and its student-athletes reached new levels of success on the field and off.
"I can say without reservation that there has never been a better time to be part of the Temple family, whether you are a student, faculty member, administrator or alumnus," Englert said. "We have a strong dedication to our mission and an unrelenting commitment to our students, our neighbors and our great city."
Englert arrived at Temple as an assistant to the dean of the College of Education. Over the years, he has been provost and interim senior vice president for academic affairs, dean of the College of Education and vice president for administration, among many other roles. Since 1985, he has served as a professor in the College of Education.
Throughout his career, Englert has always responded to Temple's call. In recognition of his lifelong dedication, the Board of Trustees appointed him to the honorific role of university chancellor in 2012.
"President Englert has devoted his life to Temple University," said Board of Trustees Chair Patrick J. O'Connor. "Over the course of his 40-year-plus career at Temple, he has earned a reputation as an outstanding teacher, administrator and leader who always puts the needs of our students first."
Englert earned a doctorate in educational administration from the University of California, Los Angeles. He also has a master's degree from Pepperdine University and a bachelor's degree from St. John's College.
As Temple's president, Englert has focused the university on its historic commitments: engaging with the city of Philadelphia; producing research that improves lives, including work on opioid abuse and traumatic brain injury; and energizing the Commonwealth of Pennsylvania.
Most of all, as a lifelong educator, Englert takes every opportunity to empower Temple's inspiring students and faculty.
"Temple has proved that excellence in education, access, affordability, diversity and community engagement are not mutually exclusive," Englert said. "That's what we've done better than anyone else for more than 130 years. It is who we are and it is the dedication to our mission that will make Temple an even greater institution in the years to come."
Contact
Richard M. Englert
President of Temple University
Second Floor, Sullivan Hall
1330 Polett Walk
Philadelphia, PA 19122
215-204-7405 (phone)
215-204-5600 (fax)
president@temple.edu
Media Inquiries
Ray Betzner
Associate Vice President, Executive Communications
betzner@temple.edu
215-204-8564
Staff
William T. Bergman
Vice President for Public Affairs
Melissa Zavorski
Executive Assistant to the President
Valerie I. Harrison
Senior Advisor to the President for Compliance
Mary E. Heuser
Manager, Special Projects
George Kenney
Senior Advisor for Government Affairs
Tara L. Miller
Manager, Special Projects
Anne K. Nadol
Vice President and Secretary to the Board of Trustees
Joyce L. Schofield
Administrative Assistant
Joyce Wilkerson
Senior Advisor for Community Relations and Development