Academic Programs / Engineering


Electrical Engineering
S. Biswas, Chair and Program Coordinator
(215) 204-8403, Rm. 708

Note: Department chairs frequently change at the beginning of the academic year. Students should contact departments for updated information.
Program Goals, Objectives and Design Integration:
The objective of the electrical and computer engineering program is to prepare students for careers as practicing engineers in areas such as electrical and electronic circuits, digital logic design, control systems, microprocessor applications, and analog and digital communications. These careers are in applications, development, research, and design project supervision. Electrical Engineers are involved in the design and development of telecommunications networks, in the design and manufacture of consumer electronics, in the development of control systems for space vehicles and robots, and in many aspects of the power and automotive industries.
The Department also offers concentration in computer engineering. The objective of the computer engineering concentration is to prepare students for a career in the area of computer engineering as it relates to the design of integrated software/hardware systems with both high and low level computer systems programming and applications to electrical systems. Computer engineers are responsible for designing, implementing, and the application of computers and digital systems. The field covers hardware, software, and the interaction between them. The computer engineering concentration integrates courses on computer science fundamentals from the Department of Computer and Information Sciences of Temple University into the curriculum.
The curriculum in Electrical Engineering is accredited by the Accreditation Board of Engineering and Technology (ABET). The curriculum features required courses in Mathematics, Chemistry, Physics, Humanities and Social Sciences, Composition and Writing, and the fundamentals of Electrical Engineering. The ABET minimum requirement for graduation is 124 semester hours, and students must satisfy the minimum requirement in each category as shown below; however, the sum of the minimum in each category is not 124 semester hours. Students should consult the Department Chair or their academic advisor for any questions concerning the credit distribution.
Curriculum
Electrical Engineering: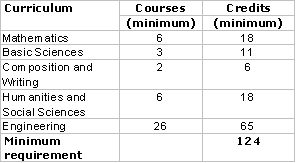 Computer Engineering Concentration:

Most technical courses in this program are offered during the day only.
Foundation Science and Math Courses in Electrical Engineering, and Computer Engineering Concentration (32 s.h.)

Required Communications, Humanities, and Social Science (24 s.h.)

Required Courses: Electrical Engineering (65 s.h. minimum)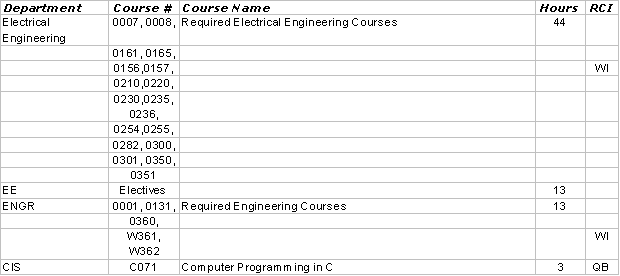 Required Courses: Computer Engineering Concentration (65 s.h. minimum):
Total Hours for Computer Engineering Concentration: 124 s.h.
(Other required courses for this concentration are listed above with Electrical Engineering Major Requirements – Science and Math / Communications, Humanities, and Social Science)