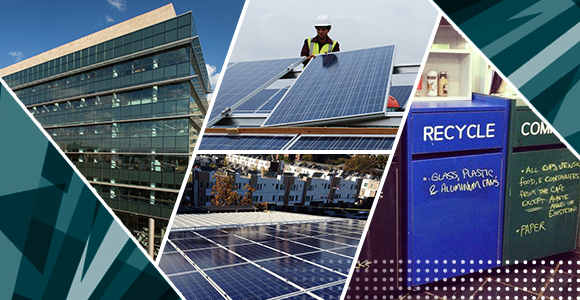 Anything is possible with two Philadelphia-born institutions like Temple and the Eagles—even sustainability. The 11,108 solar panels and 14 wind turbines that line Lincoln Financial Field produce four times as much power as is needed on gameday. Temple is taking steps to go green, too.
Edberg-Olson Hall is home for a 63-kilowatt array of 268 solar panels.

The LEED-certified Science Education and Research Center features a green roof.

A new student composting program diverts 12.55 tons of rubbish from landfills every month.

The Computer Recycling Center has recycled more than 19,000 lbs of toner cartridges and more than 700 lbs of inkjet since 2007.

A living laboratory has been established to study stormwater management, thanks to a $1 million grant from the EPA.
Together, we're making sure the only footprint we leave is in the endzone.
---
We are Philadelphia's University
You can feel our presence in every corner of the city, from the famed grounds of the Sports Complex, all the way up Broad Street to Temple's Main Campus. Our family of alumni, 300,000 strong, is the heartbeat of Philadelphia, pushing it to be better, pursue greatness and never relent.