Academic Programs / Art & Architecture


Graphic Arts and Design
Stephanie Knopp, MFA
Penrose 302
(215) 782-2869
stephanie.knopp@temple.edu
Note: Department chairs frequently change at the beginning of the academic year. Students should contact departments for updated information.
The Graphic Arts and Design Department encompasses three distinct areas of study -- Graphic and Interactive Design, Photography, and Printmaking. Our mission is to prepare students for the challenges of each discipline and to help them maximize their potential as artists.
The Graphic Arts and Design faculty is made up of practicing artists and designers who are professionally active and well equipped to teach the fundamental principles of their disciplines while keeping abreast of innovations in their fields. During the two-year program of coursework in the major, conceptual thinking aimed at the development of the student's personal artistic vision is stressed; at the same time, technical skills using appropriate tools and techniques to solve creative problems are developed. Our majors are encouraged to integrate each discipline's traditional image-making techniques with rapidly evolving 21st-century digital technologies. Upon graduation, our students are prepared to enter their respective fields as professionals and to continue their growth as artists.
Graphic and Interactive Design
Alice Drueding, Area Head
302 Penrose Hall
(215) 782-2869
drueding@temple.edu
Graphic and Interactive Design is visual communication using creative combinations of ideas, art, and technology to inform and influence specific audiences. Course offerings include assignments in corporate identity, packaging, publishing, poster design, advertising, signage, illustration, and design for the world-wide-web and CD-ROM.
Major Requirements B.F.A. Graphic and Interactive Design
SOPHOMORE REQUIREMENTS:


JUNIOR REQUIREMENTS: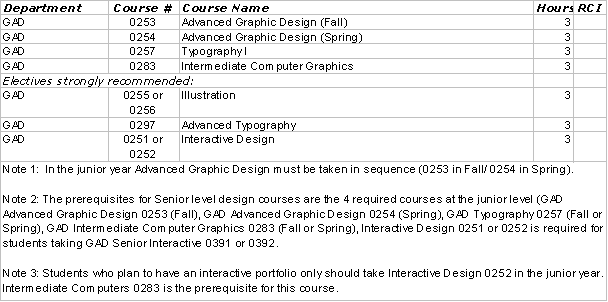 SENIOR REQUIREMENTS:

Photography
Michael Becotte, Area Head
102 Elkins Hall
(215) 782-2785
michael.becotte@verizon.net
In addition to traditional black and white and color photography, Tyler's Photography Area will introduce you to various other creative approaches to the medium. Some of these include digital imaging techniques, large-format professional digital printing in black and white and color, handmade cameras, large format photography, historical processes, critical theory, and career options for artists.
Major Requirements B.F.A. Photography Major
SOPHOMORE PREREQUISITE:


JUNIOR AND SENIOR REQUIREMENTS:

Printmaking
Dan Dallmann: Area Head
203 Penrose Hall
(215) 782-2837
dallmann@temple.edu
The Printmaking Area is housed in large, fully equipped modern studios where you first learn the fundamentals of the three printmaking disciplines (silkscreen, lithography, and etching) before exploring at least two of these disciplines in depth. After students master the basic technical aspects of printmaking, the faculty encourages the exploration of advanced subjects that include color and photo-etching, photo-lithography, metal engraving, mezzotint, viscosity color printing, woodcut, and the full utilization of the computer as an image-creating tool.
Major Requirements B.F.A. in Printmaking
SOPHOMORE PREREQUISITE:


JUNIOR REQUIREMENTS:


SENIOR REQUIREMENTS: