Academic Programs / Music & Dance


Dance Description
Dr. Luke Kahlich, Chairperson
Professor Philip Grosser, Undergraduate Coordinator
1700 N. Broad St., Suite 309
(215) 204-1942
pgrosser@temple.edu
www.temple.edu/boyer/dance
Note: Department chairs frequently change at the beginning of the academic year. Students should contact departments for updated information.
● The total number of credit hours may be greater for some students based on initial placement exams, transfer evaluations, individual curricular choices, and academic progress.
● Certain courses fulfill multiple requirements. In consultation with your academic adviser, you will be able to plan your curriculum more effectively.
● Students must fulfill the necessary prerequisites for any given course or course sequence. See the Prerequisite and Co-Requisite Policy in University-Wide Academic Policies in the Bulletin.
The Bachelor of Fine Arts in Dance emphasizes modern dance technique, performance, and choreography. The program provides a sound preparation for students wishing to pursue further training or embark on a professional career. Within the curriculum, students may elect courses that prepare them for work and/or further study in the fields of physical therapy, dance/movement therapy, dance production, education, and arts management. The BFA provides students with the opportunity to master a range of dance techniques, choreography, production, and theory, and to study other arts, sciences, and humanities.
The degree program in dance aims to:
●Guide students toward a balance of cognitive, analytic, intuitive, and creative skills;
●Aid students in development of their creative potential through technique, choreography, performance, research, and other creative media;
● Educate students about the various forms and purposes of dance within their historical, social, and cultural contexts;
● Provide intensive training in a range of dance techniques and styles as represented by the faculty and selected guest artists; and,
● Prepare students for professional careers as performing artists, choreographers, teachers, scholars, and informed and responsible leaders in academic and other professional settings.
The Bachelor of Fine Arts degree in Dance is conferred upon a student by recommendation of the faculty and upon the satisfactory completion of a minimum of 125 semester hours of credit and completion of the required Dance and University Core requirements.
Dance Resources: The Dance Department, with its three studios, rehearsal room, Pilates and Dance Medicine Clinic, black-box theater, video library, and assorted classrooms, embraces a broad array of activities. The Philadelphia Dance Collection at Temple University (PDCAT) provides access to the dance legacy of the region through a permanent collection of multi-format archival resources related to the history of Philadelphia dance.
Special Opportunities: The Conwell Dance Theater season provides many opportunities for students to perform and choreograph. A typical season features two student concerts, two Master of Fine Arts thesis concerts, two Bachelor of Fine Arts senior concerts, a faculty dance concert, and an alumni concert. Added to this are performances by guest artists, repertory showings, and informal student choreography performances. Recent guest artists have included Donna Uchizono; Sean Curren; Cornelius Carter; Ruth Andrien, former soloist with the Paul Taylor Dance Company; and Nina Watt, member of the Jose Limon Dance Company.
REQUIREMENTS FOR THE DANCE MAJOR
(Note: The University is reviewing all school and college, major, and GPA requirements above 2.0. Please refer to the electronic Bulletin for up-to-date information at www.temple.edu/bulletin/academic_programs.)

Dance – Required Techniques**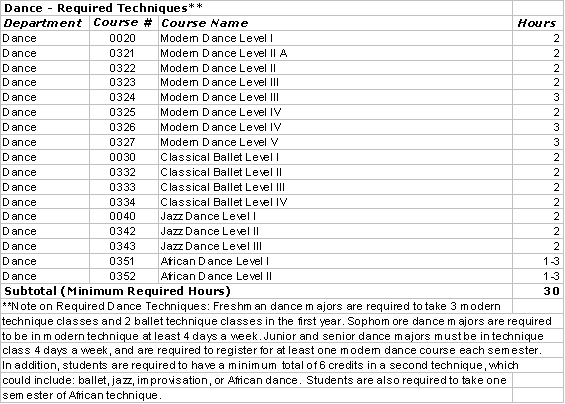 Performance and Choreography Required Courses

Required University Core

Dance and Other Electives***