Academic Programs / Art & Architecture


Bachelor of Science in Art Education
The Art Education program ensures a fully rounded preparation for the elementary and secondary school teacher. This program provides content study for art teacher preparation and teacher certification to teach art in kindergarten through twelfth grade. The requirements for the degree are 128 total credits. Forty-two credits are in studio art, nine credits in Art History, twenty credits in Art Education, eighteen credits in Education, and thirty-nine to forty-five credits in the University Core Curriculum. The department will accept a maximum of 24 s.h. of transfer studio credits toward the major. The Bachelor of Science degree in Art Education may be conferred upon a student by recommendation of the faculty and upon the satisfactory completion of a minimum of 128 semester hours of credit with a minimum cumulative GPA of 3.0.
(Note: The University is reviewing all school and college, major, and GPA requirements above 2.0. Please refer to the electronic Bulletin for up-to-date information.)
Major Requirements for BS in Art Education
Students must also satisfy all University Core requirements. A minimum of 128 hours is required for the degree.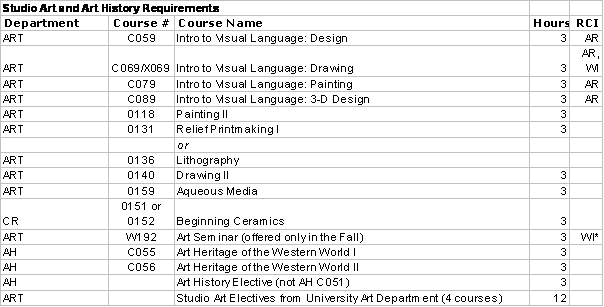 Required Courses Also Satisfying University CORE

Additional Liberal Arts Requirements
Additional Liberal Arts Requirements

Department

Course #

Course Name

Hours

RCI

STOC

0065

Public Speaking

3

Literature Elective

Any University literature course. (See Department Advisor for pre-approval.)

3


Note: Grades in parentheses indicate minimum grade necessary to count towards degree requirements.