Academic Programs / Business & Management


Risk Management and Insurance
R. B. Drennan, Program Director
Office: Ritter Annex 403
(215) 204-8894
Rob.drennan@temple.edu
http://www.sbm.temple.edu/rmidept/
Temple University's program in Risk Management and Insurance is nationally recognized. Located in the Department of Risk, Insurance, and Healthcare Management, the program prepares students to identify and evaluate various sources of risk, then select and implement solutions to control these risks through insurance and other mechanisms of risk transfer and distribution.
Graduates of this program often enter the risk management or employee benefit departments of large businesses and other organizations. They may also take challenging positions within insurance or benefit consulting firms, brokerage firms, agency operations, or insurance companies.
Risk management and insurance majors are strongly encouraged to become active in the Sigma chapter of Gamma Iota Sigma, Temple's national award-winning professional student organization in Risk Management, Insurance, and Actuarial Science. The organization hosts numerous guest speakers from the industry, sponsors a variety of career development seminars, and maintains a widely distributed resumé book. For more information, please contact Noelle Salamone, the GIS President, at (215) 204-9368 or visit the web at http://www.temple.edu/gis.
Major Tracks within Risk Management and Insurance
Students in the RMI major may select from one of three tracks depending on their interests. These include:
· Employee Benefit Management
· Healthcare Risk Management
· Property-Liability/Corporate Risk Management
SUMMARY OF REQUIREMENTS
Students pursuing any of the Risk Management and Insurance major/tracks must have a 3.0 cumulative GPA or earn a "B" in RMI 0001 to declare the major. Students must attain a 2.3 cumulative GPA and 2.3 in the major/track to graduate with the Risk Management major.
(Note: The University is reviewing all school and college, major, and GPA requirements above 2.0. Please refer to the electronic Bulletin for up-to-date information.)


REQUIREMENTS OF EMPLOYEE BENEFIT RISK MANAGEMENT MAJOR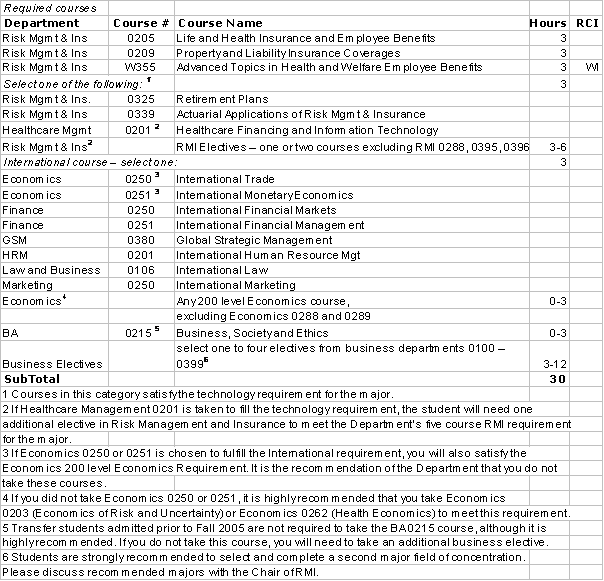 REQUIREMENTS OF HEALTHCARE RISK MANAGEMENT MAJOR
REQUIREMENTS OF PROPERTY-LIABILITY/CORPORATE RISK MANAGEMENT MAJOR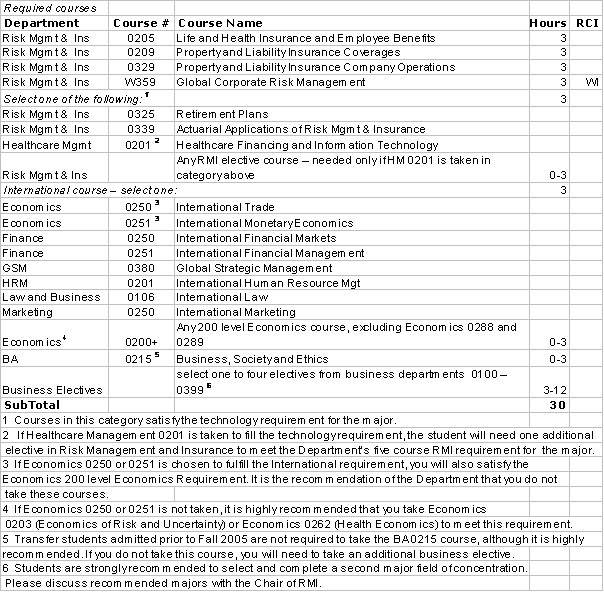 Joint Program for RMI and HRM Majors
The Risk Management and Insurance Department and the Human Resource Management Department now offer several joint programs for students interested in a career in employee benefits and/or human resource management. These programs allow students to broaden their career options by taking advantage of the cross-training offered by these departments.
· HRM major with a RMI concentration. Students take RMI 0205 (Life and Health Insurance and Employee Benefits), and RMI 0325 (Retirement Plans).
· RMI major with a HRM concentration. Students take HRM 0085 (Introduction to Personnel/Human Resource Management), and HRM 0340 (Compensation Management).
· Dual HRM/RMI major. Students fulfill all requirements for both majors.
For more information on joint HRM/RMI courses, contact Rob Drennan (215) 204-8894.