Academic Programs / Liberal Arts


Geography and Urban Studies
Gerald Stahler, Chair
jstahler@temple.edu
215-204-6939

Marilyn Silberfein, Undergraduate Chair and Faculty Adviser
pawling@temple.edu
215-204-7625
http://www.temple.edu/gus
1115 West Berks Street
309 Gladfelter Hall
Philadelphia, PA 19122
The Department of Geography and Urban Studies offers a major in which students gain an understanding of this combined field by taking several basic required courses, supplemented by upper level electives.
Within these guidelines, it is possible for students to choose courses that focus chiefly on geographical studies, including the major distributions of physical and natural phenomena across the globe, the relationship of environment and society, and the concepts underlying spatial analysis and industrial location; or they may choose a program that emphasizes urban studies, exploring the social, political, economic, and historic aspects of urban life, including international comparisons of urban society and the policies that governments have devised to address urban problems.
Gamma Theta Upsilon
Membership in the National Honorary Society in Geography is available to majors selected on the basis of GPA. Initiations are held each year, and student members can submit articles to the GTU journal and apply for national scholarships.
Internships
Students are encouraged to apply their skills and knowledge in a credit-bearing internship that utilizes their academic training. Assignments at planning, social service and other agencies, as well as firms that specialize in mapping and geographic data analysis, have helped in securing employment opportunities.
B.A. Requirements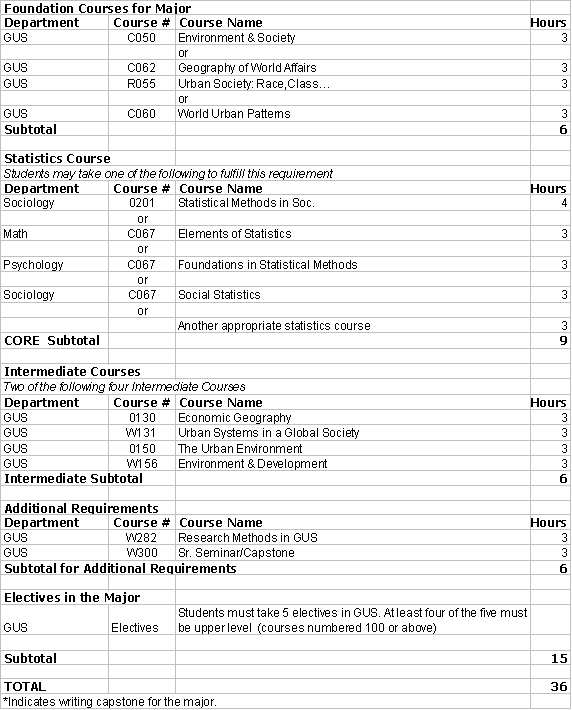 Requirements for the Minor

Electives
Students must take 5 GUS electives, a cognate may be substituted for one of these. At least 4 of the 5 must be upper level (courses numbered 100 or above).
Tracks
The department has identified several informal areas of concentration to assist students in making course selections. These do not constitute formal requirements, but rather provide guidelines for developing a personalized curriculum. Students can focus on the following themes:
1. Urban Issues
2. Environmental Problems
3. International Development
4. Geographical Techniques
Double Major with the College of Education
It is now possible to become certified as a secondary school social studies teacher by combining a major in Geography and Urban Studies with a major in Social Studies Education. It is also possible to gain certification through a GUS major and education minor following
Certificates of Specialization in Travel and Tourism
Students may take a series of courses that examine the rapidly growing fields of tourism and recreation from an urban/geographical perspective. Two certificates are available.
Certificate of Specialization in the Geography of Tourism
The courses in this certificate program examine all the world's culture regions and the linkages among them. Courses can be selected based on a student's interest in domestic or international tourism. Additional courses would then be chosen to help the student acquire a sense of place as well as strategies for learning about new locations. Some students might also want to study geographical information systems (GIS) to assess the character of specific tourist destinations.
Certificate in the Geography of Sports, Recreation and Tourism Planning
Students in this program who are interested in urban recreation and sports can take courses related to urban social and policy issues, while those interested in outdoor/rural recreation can take courses on environmental issues. The course on geographical information systems (GIS) is particularly relevant to tourism planning.
Distinction in the Major
Geography and Urban Studies students can graduate with distinction if they fulfill the following requirements: A GPA of 3.5 in the major and overall 3.00 GPA, enrollment in at least one graduate or double-numbered course, the completion of an honors paper under the supervision of a faculty member, and the presentation of a paper in a public forum. Students who think that they may qualify for distinction should contact the undergraduate advisor by their junior year.