Academic Programs / Liberal Arts


Greek, Hebrew and Roman Classics
Robin Mitchell-Boyask, Department Chair
Anderson Hall 330
(215) 204-8267
robin@temple.edu
Greek & Roman Classics Division
Martha A. Davis, Advisor
madavis@temple.edu
Students in the Department of Greek, Hebrew, and Roman Classics study the cultures and languages of three major civilizations of the ancient Mediterranean world. Classics is an interdisciplinary field of study which encompasses major disciplines of the liberal arts: languages, history, literature, and philosophy.
Classics offers a sound liberal arts background: Classics majors have held senior positions in government, law, and public service organizations, have founded and headed profit and non-profit companies and organizations, and have worked as correspondents and journalists. Recent Temple Classics majors have gone on to law school, veterinary school, graduate school, business and teaching careers.
The organization for majors and minors is Zeta Beta Chapter of Eta Sigma Phi, the National Honorary Society for Classics.
Distinction in Major requires a senior thesis and a minimum GPA of 3.5 in Greek, Latin, or Greek and Roman Classics courses.
Summary of Requirements for the Major
-Eight courses in Greek and/or Latin, including W101 in one of the two languages.


-Three additional courses from any or all of the following categories:
a. Advanced courses in Greek and/or Latin.
b. Courses in Classical Culture (must include Classical or Comparative Mythology)
c. Courses on aspects of the ancient Greek and Roman world in other Temple departments, such as Art History, History, Religion and Philosophy, as approved by the Department Adviser.
Requirements for the Major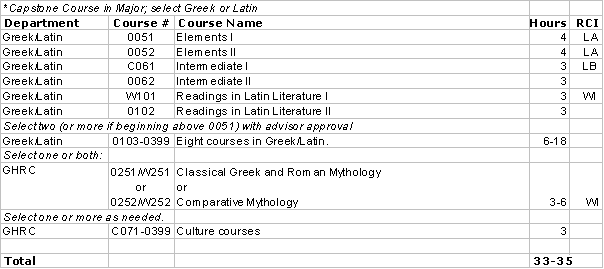 S

Summary of Requirements for the Minor



Required Courses Ancient Mediterranean Studies Minor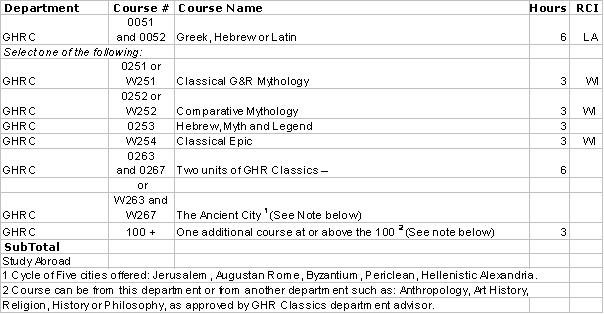 ---
Hebrew Division
Ayala Guy,
Advisor(215) 204-8274
B.A. Major Requirements-- Hebrew



Year Abroad
Students declaring concentration in the Division of Hebrew are encouraged to spend one year in one of the universities of Israel.
Minor Requirements-- Hebrew