Academic Programs / Liberal Arts


French
Istvan Varkonyi, Chair
5th floor Anderson Hall
215-204-8266
istvan.varkonyi@temple.edu
Wilbert Roget, Advisor
5th floor, Anderson Hall
215-204-8273
wilbert.roget@temple.edu

www.temple.edu/fgis
Summary of Requirements for the major
Prerequisites: French 0051, 0052 with a minimum grade of C or equivalent placement
Major requirements: Ten courses, including French 0223, 0224, W232 and three literature courses at the 300 level.
Course levels are incremental in skills and content. Courses must be taken sequentially or in some instances may be taken concurrently. Students who initially place beyond French C061 may begin with French 0062 or at the 100 level, as appropriate.
Students who place out of C061 will need one additional elective; those who place out of 0062 will need two additional electives.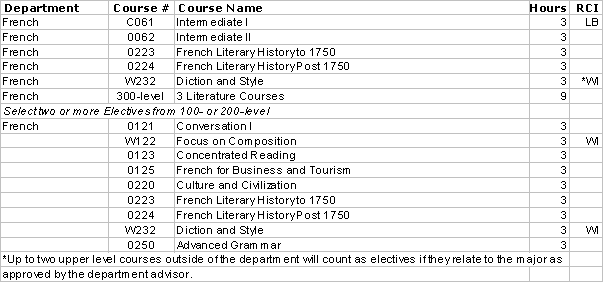 Summary of Requirements for the minor
Prerequisites: French 0051 with a minimum grade of C or equivalent placement.
Minor requirements: Six courses (minimum of 18 credits), including at least two courses at the 100 level and one course at the 200 level.

Summary of requirements for the Special Foreign Language Certificate in French
Six courses (20 semester hours) beginning with French 0051, including French 0125 (French for Business). French 0121 (Conversation) or French 0220 (Culture and Civilization) or an upper-level course is also required.

D

Distinction in Major
To be considered for Distinction in Major, students must:
(1) Complete the requirements for the concentration in French with a GPA of at least 3.50;
(2) Be recommended to the Chair of the department by the French faculty advisor after
consultation with the French faculty;
(3) Have an overall GPA of at least 3.25.

Study Abroad
Students declaring a major in the department are encouraged to study abroad. Temple University has a summer program at the Sorbonne in Paris. Credits earned through the Temple Sorbonne Program may be used toward the French major, minor, certificate and in partial satisfaction of the International Studies requirement

TEST