Academic Programs / Liberal Arts


American Studies
Miles Orvell, Director
941 Anderson Hall
215-204-1644
orvell@temple.edu
http://www.temple.edu/american_studies
American Studies is an interdisciplinary program that explores the rich complexity of American culture. Courses focus on such major issues as work, technology, and the role of the media and popular culture in American life; the culture of cities and suburbs; the role of law; the radical tradition; photography; film; and music. American Studies provides students with a solid understanding of the culture of the United States through interdisciplinary courses originating in the program as well as through recommended courses in other departments and disciplines. The program also offers student internships at a variety of cultural institutions in Philadelphia and the Delaware Valley. American Studies courses are known as challenging and thought-provoking, and many of them double as Temple University Honors courses. The major stresses development of reading, writing, and analytical skills that are necessary for successful careers in various professional fields. American Studies majors go on to graduate school, law school, or medical school. They also may take jobs in museums, libraries, business, social services, public relations, and the media.
REQUIREMENTS FOR THE MAJOR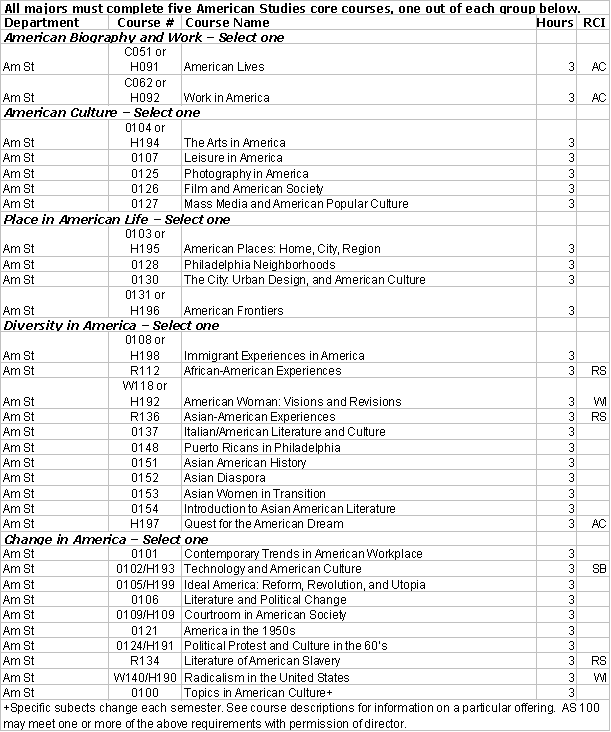 In addition, at least four courses outside of the major selected in consultation with the American Studies director and congruent with an American Studies focus. We recommend that six of these credits should be in American history and literature.
We urge students to take the Senior Seminar in their final year of study (usually offered in fall semester). Only in rare circumstances and with special permission can students satisfy the capstone by taking W394.


Distinction in Major
American Studies majors may graduate with distinction in the major if they have a GPA of at least 3.5 in the major and a cumulative GPA of at least 3.0
---
Requirements for the Minor
Kathy Uno, Coordinator
215-204-7468
aaminor@temple.edu
This new interdisciplinary minor focuses on Asian American history, culture, and contemporary issues as well as their Asian roots and American context. The Asian American Minor is 6 courses (18 s.h.), 5 in American Studies and 1 in Asian Studies, as distributed below. Besides taking regular courses, students can earn credits through fieldwork and independent study under a professor's guidance. This minor is a useful credential for majors in education, journalism and communication, social administration, health science, social science, humanities, history, pre-law studies, and business fields such as personnel and marketing.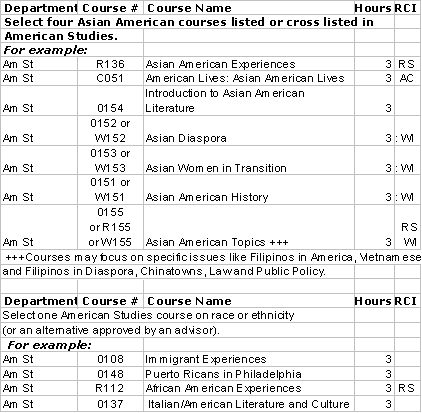 Select one Asian Studies course under an Asian Studies or cross-listed number. Advisers can help students choose from a list of over 60 courses.