Academic Programs / Liberal Arts


African American Studies
Department Chair:
Nathaniel Norment, Ph.D.
Undergraduate contact person:
Sonja Peterson-Lewis, Ph.D.
Associate Professor, Director of Undergraduate Studies
Office location: 829 Gladfelter Hall
Telephone: 215 204-1996
Email address: sonja.peterson-lewi@temple.edu
The mission of the Department of African-American Studies is to provide an intellectual arena in which students learn to critically examine, analyze, and interpret the experiences, traditions, and dynamics of peoples of African descent so as to be prepared to take roles of effective agency, participation, and leadership in the intellectual, research, and social activist domains of professional and community life. The Department's guiding philosophy is African-centered in that we believe that mindful awareness of the social, cultural, and historical experiences of African peoples must inform and guide all viable research, analysis, interpretation, and action directed toward people of African descent.
The curriculum stresses the skills necessary to think critically, write clearly, argue persuasively, and problem solve effectively. Students are exposed to theory and research in a variety of subject areas and are encouraged to engage in active research and service beyond the classroom. Past AAS alumni have entered careers in primary and secondary education and administration, social work and administration, research design, law enforcement, city government, and have also worked with museums and other cultural and artistic institutions. Others have entered graduate studies in a variety of areas, including law, the health-related professions, public administration, and the social sciences.
The Department offers three internal awards for graduating seniors—two privately sponsored awards for outstanding academic performance and one departmental award for outstanding service. The Temple in Ghana program, which allows students to study for six weeks during the summer at the University of Ghana in Accra, operates out of the Department of African American Studies.
Suggested Order of Completion of the AAS Major and Minor Requirements
Minors are not required to complete AAS 398 Senior Seminar.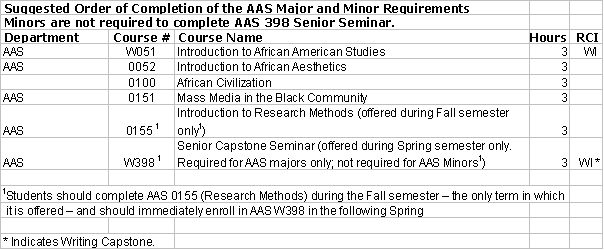 Additional Requirements for the Major and Minor